Parent Org. and Booster's Club have combined meetings the 2nd Wednesday of the month starting at 5pm in the Flex Room, unless scheduled for another date due to holidays, or board member schedule conflicts. Please note this schedule is subject to change, which will be communicated via Parents MiStar email addresses.
The next meeting is scheduled for Wednesday, 10/11/2023!
Mission Statement: The Navigators Athletic Booster Club is a non-profit volunteer organization working to supplement and support the athletics programs by providing financial assistance to extracurricular athletics, thereby enhancing the school programs at Henry Ford Academy.
Purpose of the Club:
To sponsor and provide clean, healthful recreation, sports and other activities for the youth athletes attending Henry Ford Academy, Dearborn, Michigan.
To organize, stage and assist other athletic organization with special events or projects.
To provide supplementary financial support for various Henry Ford Academy athletic activities.
To encourage attendance at all Henry Ford Academy athletic events
To make use of such recreational facilities as grounds, hall, etc. as offered by the School or the community.
To maintain concessions at all home games for all functions unless the Board has granted special permission.
All activities and functions of this Club are subject to the advice and consent of school administration.
WELCOME TO THE HENRY FORD ACADEMY BOOSTER CLUB
Every parent/guardian of a Henry Ford Academy student is automatically a member of the Navigators Booster Club.
Any family member, alumni or supporter of HFA is encouraged to join and help support the sports program. Please join our Facebook page "Navigator's Booster Club HFA-Dearborn"
The Booster Club will communicate through email, Facebook, and annoucements at school. To be added to our email list, please complete the Contact Form
If you have any questions, please feel free to contact us.
Membership allows you to make motions and vote during our monthly meeting, hold a board position and serve on committees.
The Booster Club will have many fundraisers throughout the year to benefit our student-athletes. Some annual fundraisers include Blue Vs. White Volleyball Game, and bowling!
The next fundraising opportunity is CASINO NIGHT! If interested in registering for this event contact Kathy Atkinson at kathyatkinson519@hotmail.com. Registration closes March 1st, 2023.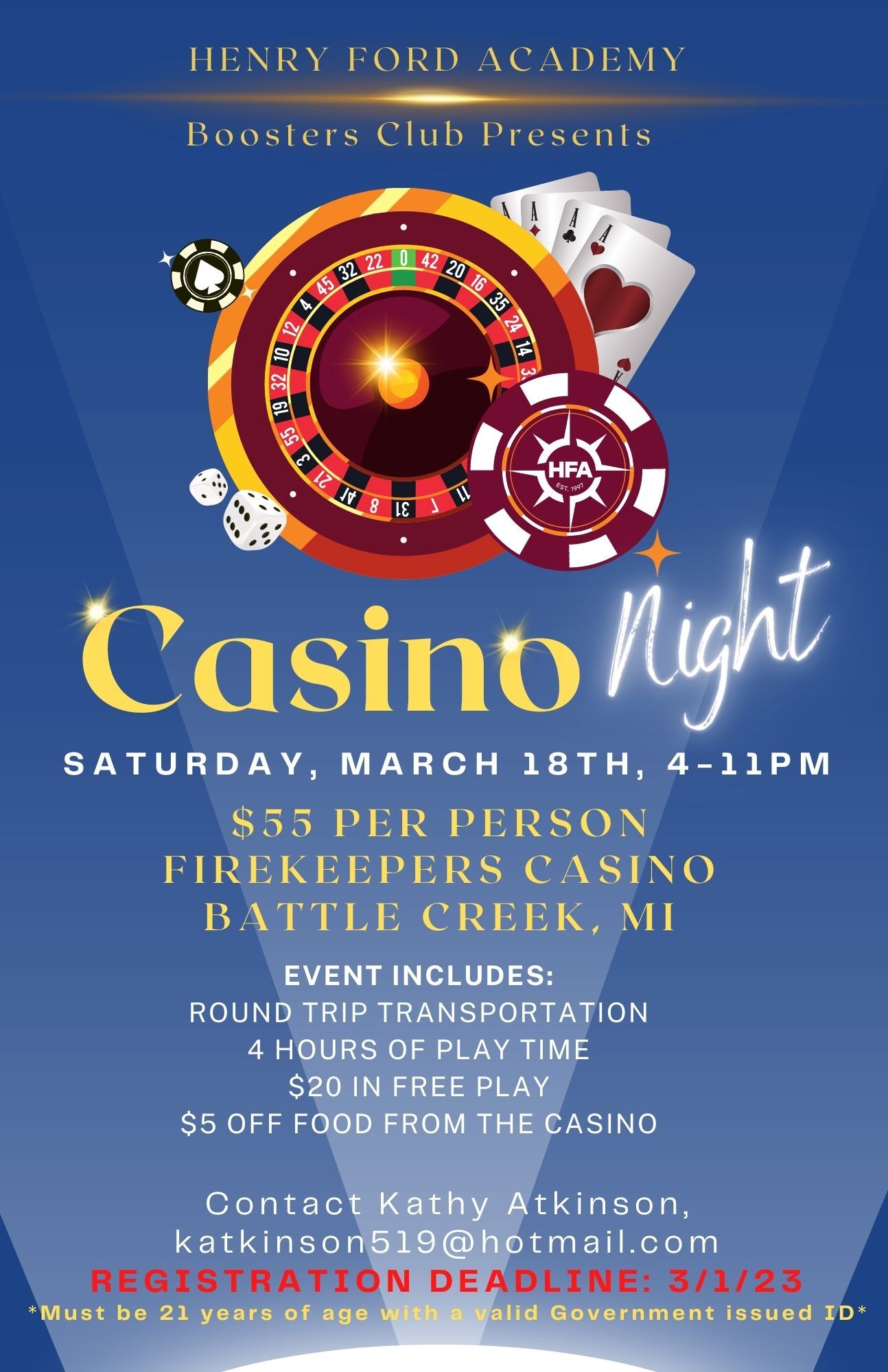 ENHANCE YOUR CHILD'S SUCCESS AT HFA BY VOLUNTEERING
We are a group of Henry Ford Academy parents, students and faculty who have joined together to raise funds for our school's athletic program. We will require volunteers to support our fundraising so that we can further enrich the experience of all students.
The Booster Club is looking for a parent volunteer from every sport to assist in making our fundraising efforts successful. If you are willing to volunteer to be part of our Parent Committee please send us an email at navigatorsbooster@gmail.com.
Parent volunteers are needed to help with selling concessions, admissions to home games, promoting our fundraising activities and various other programs at HFA. Requests for volunteers will be posted on the website, facebook and through email blasts.
Studies show student academic performance improves with parent involvement. Get involved by signing up for on of the many volunteer opportunities at HFA.
Meeting Minutes/Treasurer's Report
2023-2024 Meeting Minutes
June 12, 2024
May 8, 2024
April 17, 2024
March 13, 2024
February 7, 2024
January 10, 2024
December 13, 2023
November 8, 2023
October 11, 2023
September 27, 2023
September 13, 2023
2022-2023 Meeting Minutes
Rescheduled to May 3, 2023
Rescheduled to April 11, 2023
March 8, 2023
October 12, 2022
September 28, 2022
Treasurer Reports
December Treasurer Report - 2018
January Treasurer Report - 2019
Navigators Booster Club
2022-2023 Booster Club Board
President: Kathy Atkinson
Vice-President: Diane Mendoza
Secretary: TBD
School Sponsor: TBD
Parent/Team Coordinator by Sport:
Girls Varsity Basketball- Open
Girls Varsity Soccer - Open
Girls Varsity Softball- Open
Girls Varsity Volleyball- Open
Girls JV Basketball- Open
Boys Varsity Baseball- Open
Boys Varsity Basketball- Open
Boys Varsity Soccer- Open
Boys JV Basketball- Open