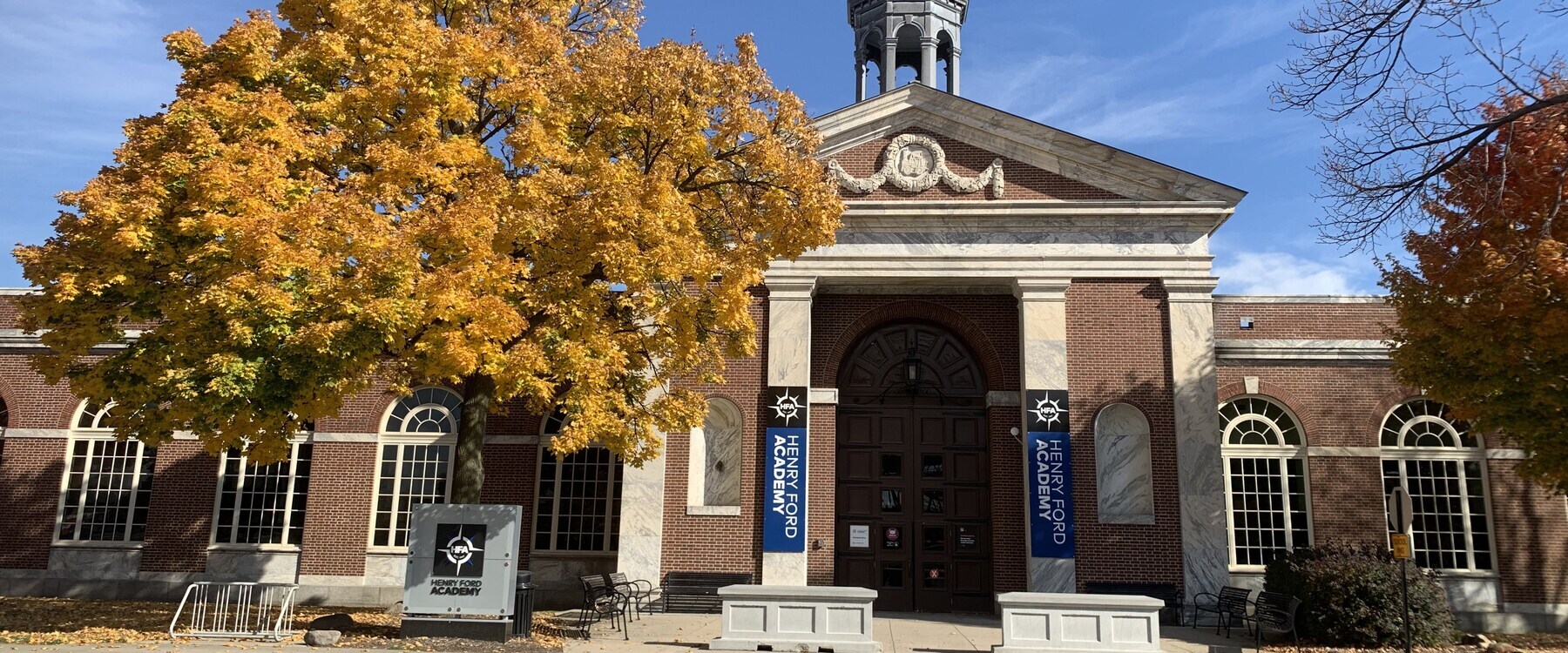 Welcome to

Henry Ford Academy

Innovate. Achieve. Make History.
Upcoming Events
Parent Org.&Booster's Mtg.

Parent Org.&Booster's Mtg.
Let's Take A Virtual Tour!
Click the image below!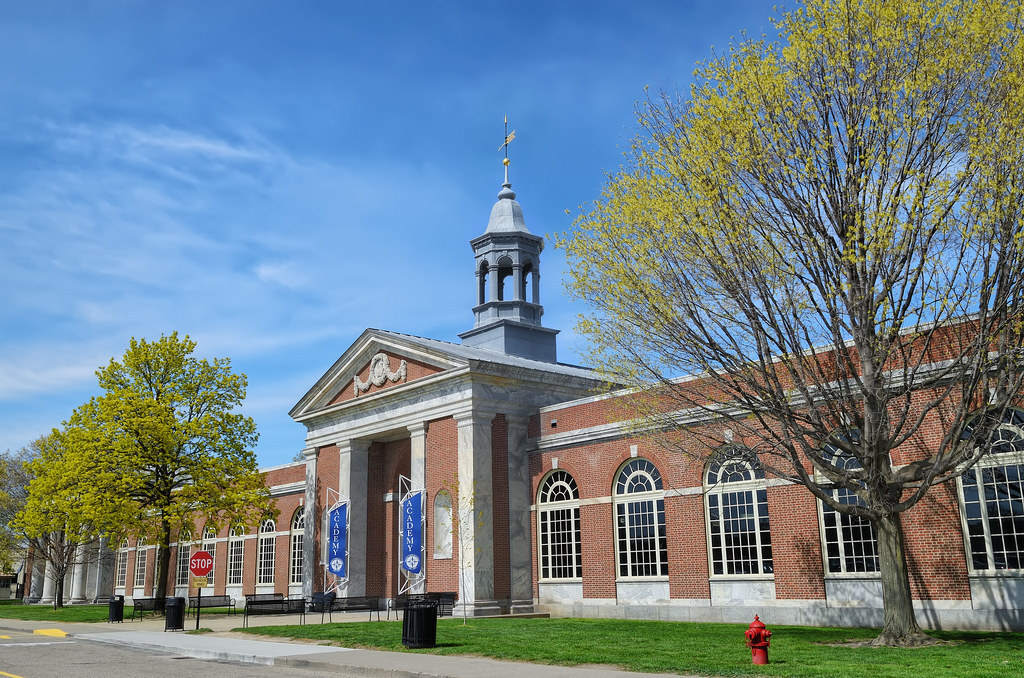 Non-Discrimination Policy
Non-Discrimination Policy
The District will not discriminate against any person based on gender, sexual orientation, ethnicity, race, color, national origin, religion, height, weight, marital status, age or disability. The Board reaffirms its long-standing policy of compliance with all applicable federal and state laws and regulations prohibiting discrimination including, but not limited to, Titles VI and VII of the Civil Rights Act of 1964, 42 U.S.C. §§ 2000d. et.seq.; and 42 U.S.C §§ 2000e, et seq.; Title IX of the Educational Amendments of 1972, 20 U.S.C. §§ 1681, et seq.; Section 504 of the Rehabilitation Act of 1973, 29 U.S.C § 794; The Americans with Disabilities Act of 1990, 42 U.S.C. §§ 1210, et seq.; the Persons with Disabilities Civil Rights Act, MCL §§37.1101, et seq.; and the Elliott-Larsen Civil Rights Act, MCL §§ 37.12101, et seq.
Inquiries or complaints by students and/or their parent(s)/guardian(s) related to discrimination based on disability/handicap should be directed to

Assistant Principal/Mr. Michael Flannery
(313) 982-6191 mflannery@hfa-dearborn.org
Discrimination and Harassment (Title IX) Grievance Procedures
Henry Ford Academy is dedicated to maintaining a school and work environment free from unlawful sexual discrimination in all aspects of the educational experience, including academics, extracurricular activities, and athletics.
Reporting and grievance procedures for Henry Ford Academy.
Report the situation to a staff member, administrator

Staff members promptly notifies Title IX coordinator

Title IX coordinator promptly begins a Title IX investigation

Title IX Investigation Steps:

Explanation of Complaint is recorded

Investigation and collection of evidence

Remedies and actions taken

Closure
Title IX Coordinator/Mr .Michael Flannery
313-982-6191 mflannery@hfa-dearborn.org
Harassment/Bullying Policy
Harassment/Bullying Policy
Henry Ford Academy is committed to protecting students and staff from harassment or bullying and to maintain a safe and secure environment. Bullying and harassment in regards to one's gender, sexual orientation, ethnicity, race, color, religion, height, weight, age, nation of origin or disability is prohibited. Students who engage in unwelcome verbal, written, or physical conduct that offends, denigrates, or belittles an individual is harassment and may result in suspension and/or expulsion from the Academy.
Types of Harassment/Examples
Verbal Harassment

Examples: Name calling, profanity, put-downs, racial/sexual slurs

Sexual Harassment

Examples: Unwanted/unsolicited displays of affection, touching, sexual jokes/conversation

Physical Harassment

Examples: Bullying, pushing, hitting

Cyber Harassment

Cyber Harassment

Examples: Name calling, profanity, put-downs, racial/sexual slurs posted on the internet or sent via electronic devices.
Students who feel they are being harassed or bullied should report it to the Counselor, Assistant Principal, or Principal.
Sign up for HFA Text Alerts

CLICK ON THE GRAPHIC ABOVE FOR EBT INFORMATION
Students must be enrolled in a Michigan School

Participate in a virtual or hybrid school schedule

Be eligible for free or reduced lunch or attend a Community Eligibility Provision school
Watch HFA Athletics LIVE!
Down the "GameChanger" app on your mobile device and join the "Henry Ford Academy Varsity Gators" Team:
http://web.gc.com/teams/sFLD1FSS21Vh/live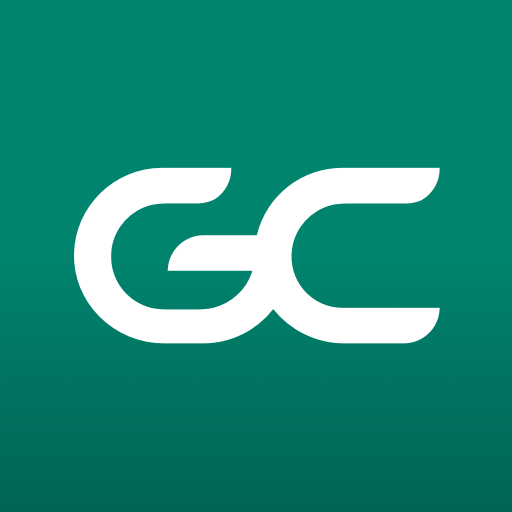 Spotlights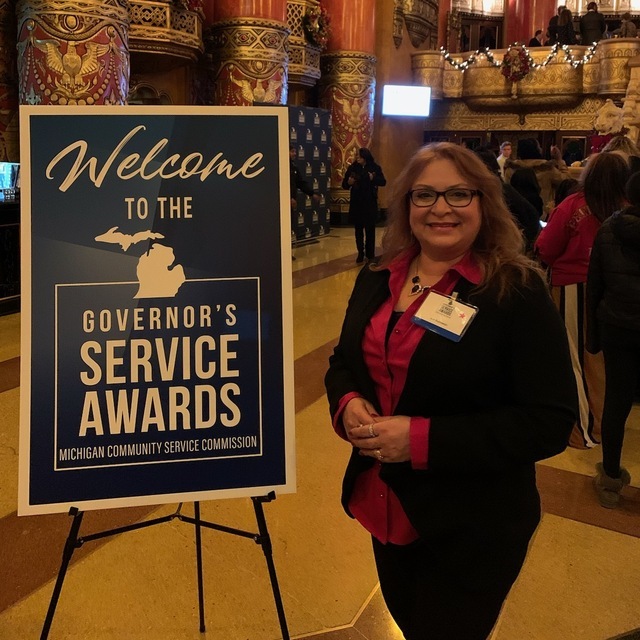 Congrats Mrs. Kuhowski for receiving the Governor's Service Award!
Our very own tech guru, Mrs. K received the Governor's Service Award at the Fox Theater. Along with teaching AP Computer Science, Web Design, UAV Drone, and ArcGIS, she keeps our computers running, coaches eSports and Cyber Patriots, TEALS Alumni Instructor, and even shows the HFA staff how to work the new phones. Needless to say she is simply amazing and deserves all the awards that can be bestowed upon her! We're so lucky to have you!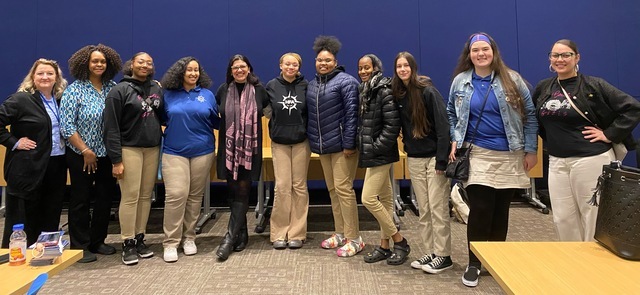 Congresswoman Rashida Tlaib visits HFA's Bold Beautiful Girls Club
Bold Beautiful Girls Club had a wonderful up close and personal session with Congresswoman Rashida Tlaib . She was very down to earth and transparent as she discussed her experience as congresswoman, her upbringing growing up in Southwest Detroit and the path she took to achieve her success. No question was off limits and the students came with some pretty thought provoking questions. You could tell she enjoyed talking to the girls and we would love to have her again as so many would benefit from hearing her. It was truly an honor to soak up her knowledge and hopefully this opened some new career interest for some of the girls. Thank you to the HFA staff who came and all who helped make today happen and most importantly, thank you to Rashida for visiting HFA!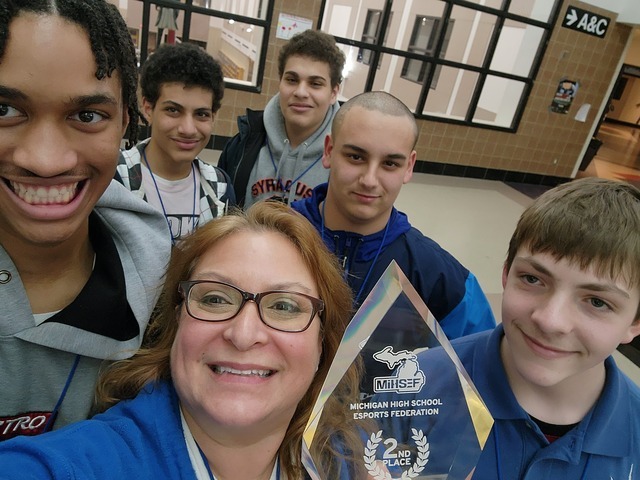 eSports take 2nd Place in Michigan High School eSports Federation Tournament!
HFA eSports led by Mrs. Kuhowski, took 2nd place in the state at the Michigan High School eSports Federation Tournament during a fierce battle in "League of Legends." We're so proud of their accomplishments! Go Gators!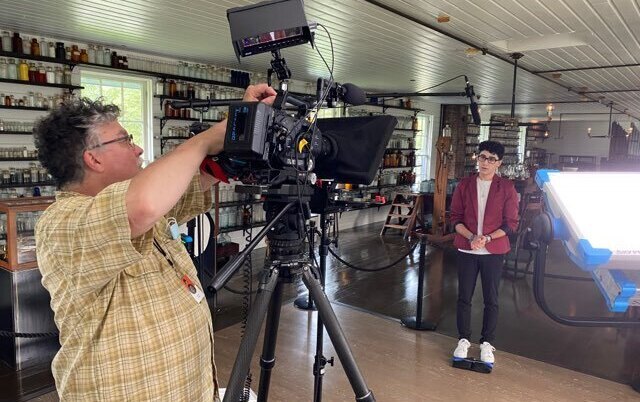 HFA Students & THF Virtual Invention Convention Finals
Henry Ford Museum's production department filmed a virtual field trip for the Invention Convention Global Finals this summer. HFA students, Amr Brown (Junior) and Katie Johnson (Senior) gave presentations at numerous sites around the museum campus.
Sports Week Featuring HFA Basketball Vs. HFA Staff!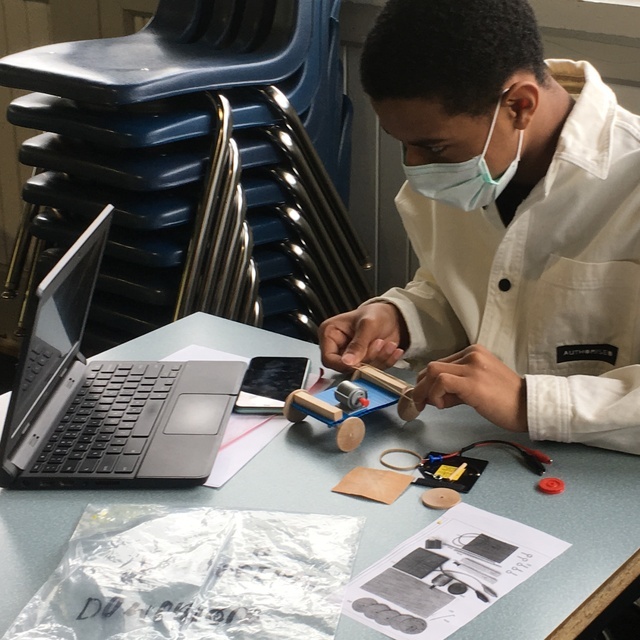 Student Solar Cars
In-person and virtual HFA students in Mrs. Goodman's STEAM-2 class raced and built Solar Cars to further their interdisciplinary knowledge of Science, Technology, Engineering, Arts, and Mathematics.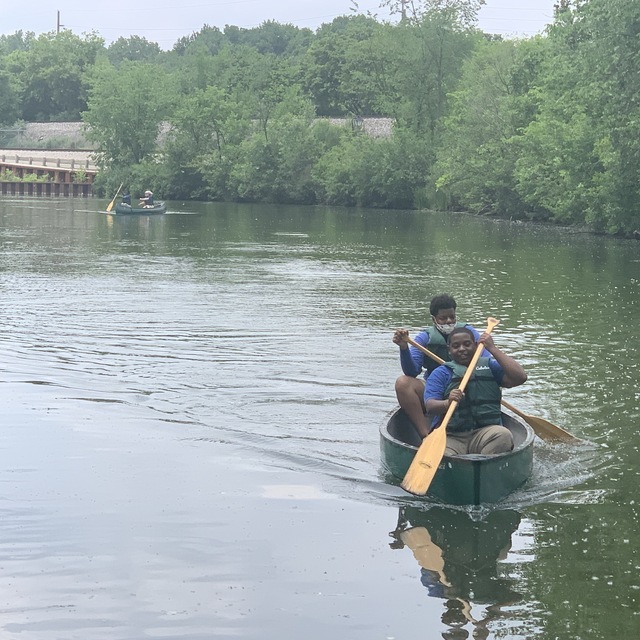 Students Exploring the History of Transportation
Mr. Koslowski teaching students the importance of early transportation of goods in his Village History course. HFA students got to put themselves into the shoes of the early pioneers as they canoed around campus.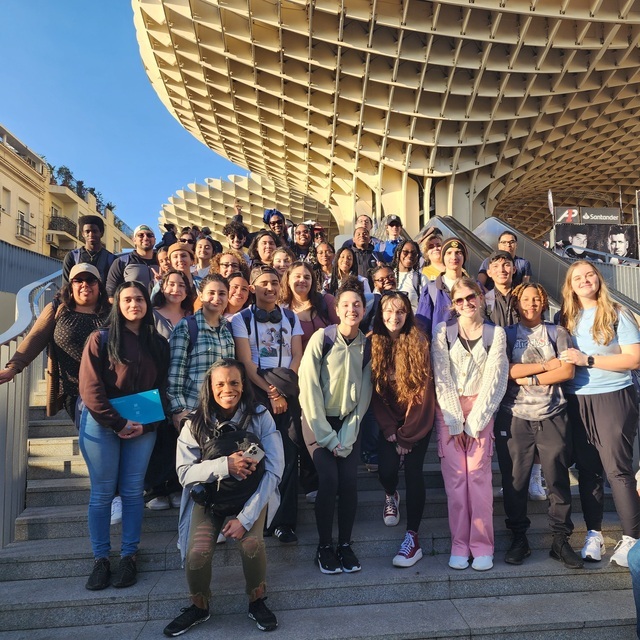 Welcome back from the Spain Trip 2023!
Our students eyes were opened to the world, and their hearts were full of excitement as they visited 6 different cities to visit sites from Ancient Moorish cities, historical cathedrals, and world renowned art museums throughout Spain! We're honored to continue to offer this program to our foreign language students, and to our incredible staff who make it all happen!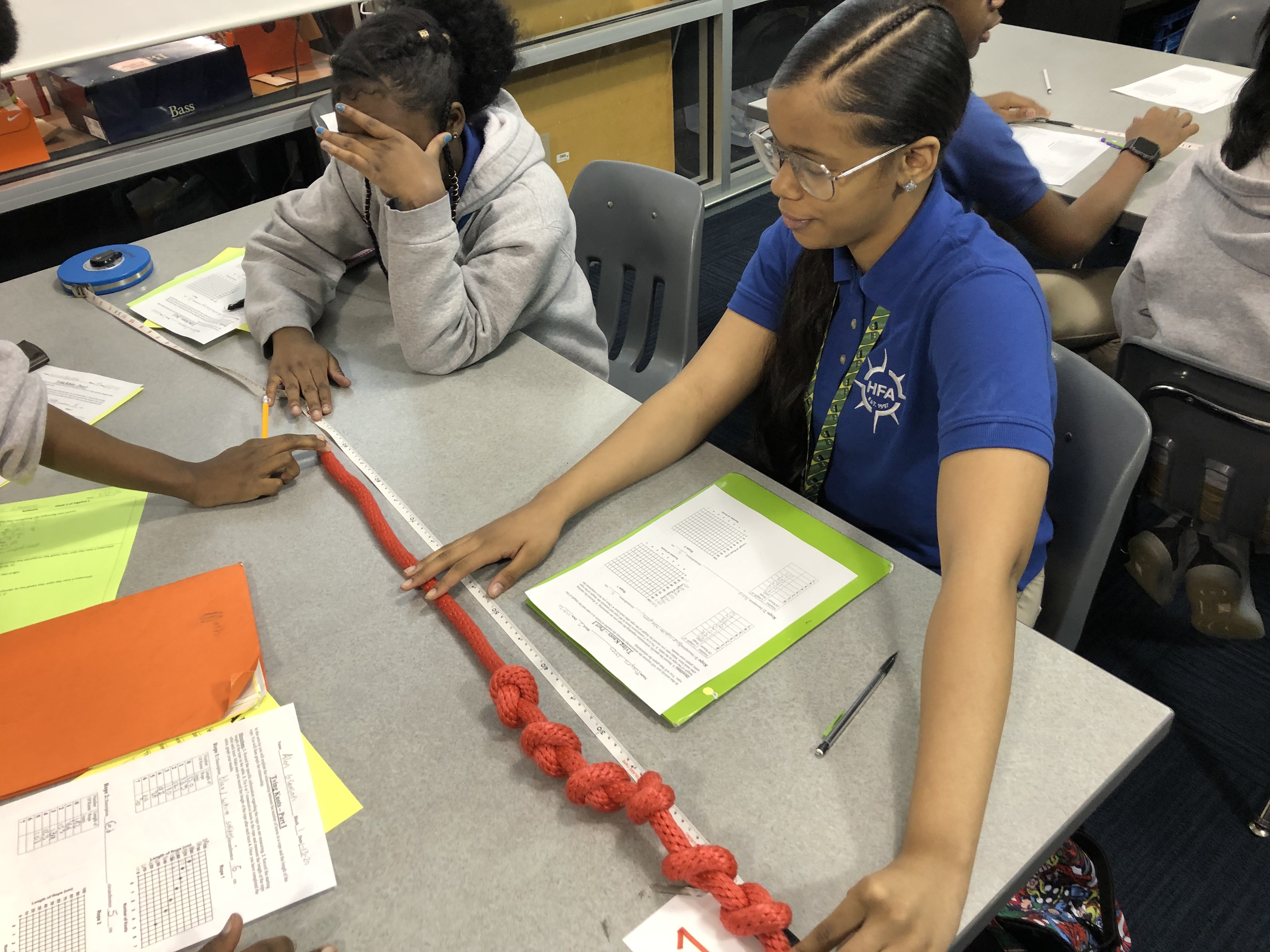 Learning By Doing! at HFA
Students in Ms. Osborne's Algebra I class learn about Linear Equations by using the Knot Lab. They looked at the mathematical relationship that resulted from tying additional knots in various ropes and graphed the equation. Algebra, meet the real world!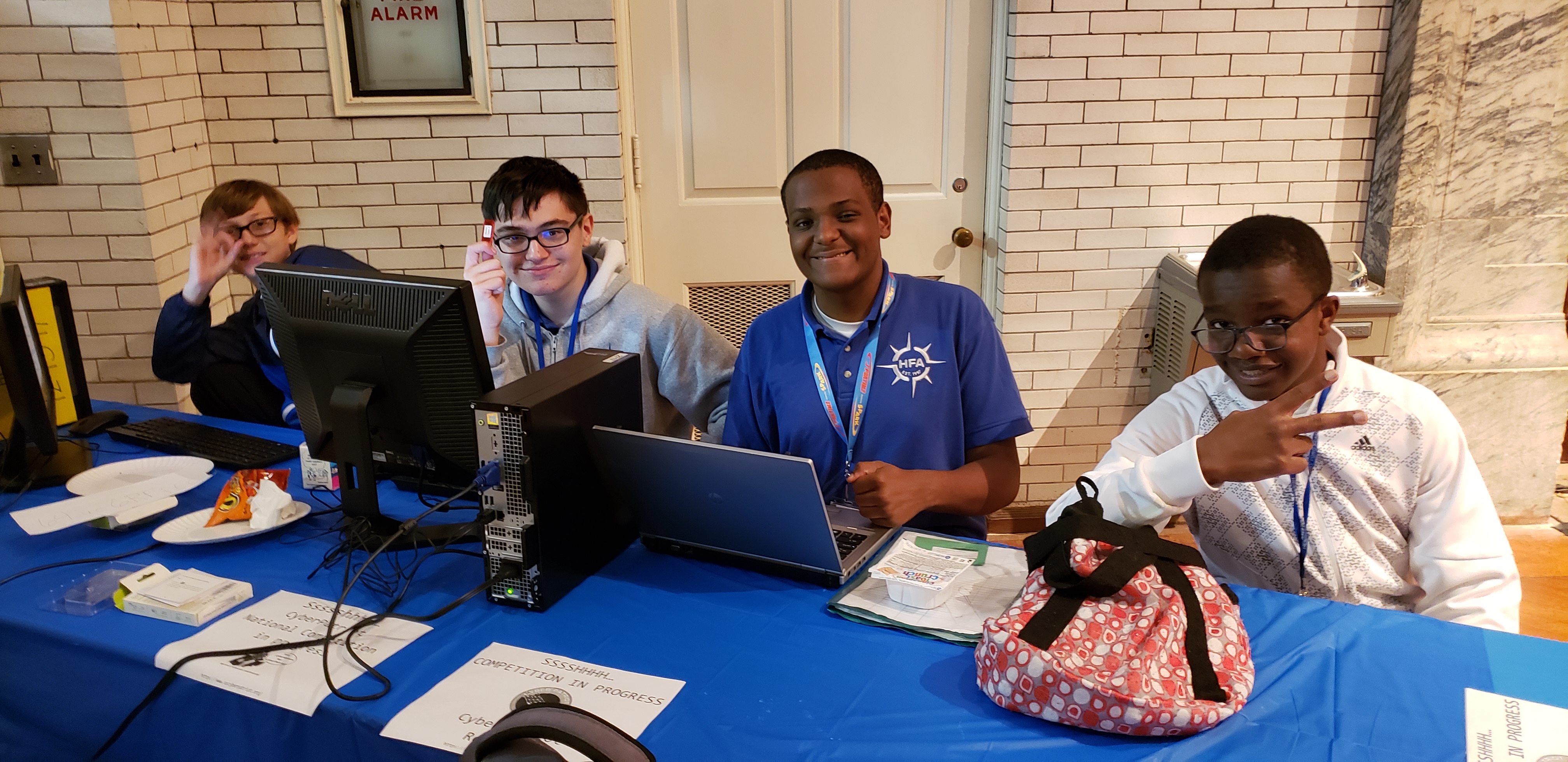 eSports and CyberPatriots
HFA students compete on the athletic field, but also on computers! Two clubs compete against other schools in both video game competitions and simulated anti-cyber attack competitions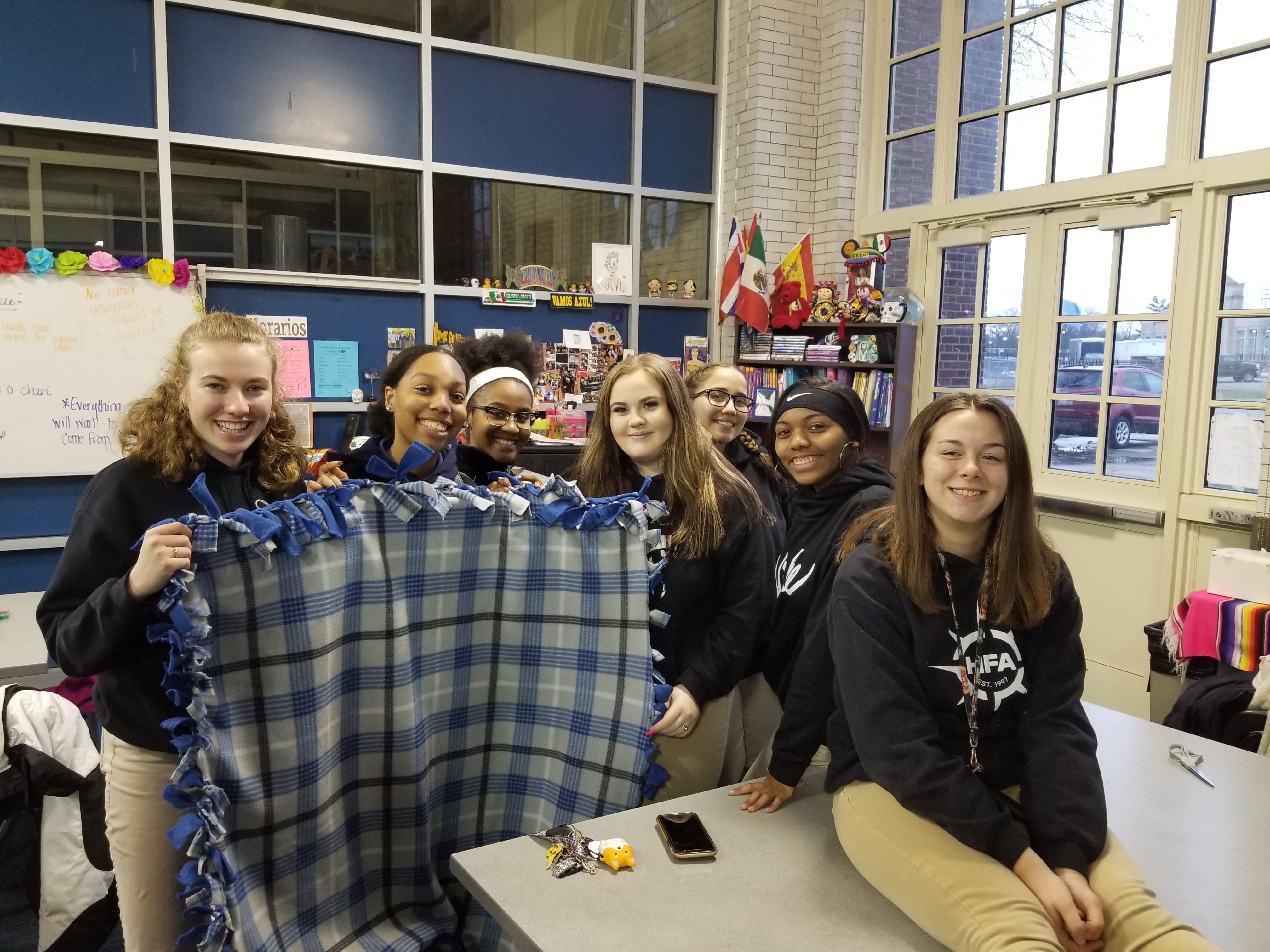 HFA Students Give Back to the Community
HFA Students in the National Honors Society create blankets for the needy. HFA offers a variety of ways to give back to the larger community