Welcome to

Henry Ford Academy

Innovate. Achieve. Make History.
Calendar
Calendar

Previous

December

2022

Next

S
M
T
W
T
F
S
1

Dec 1

10:55 AM to 11:55 AM

Half Day for Students - Dismissal

2

Dec 2

10:55 AM to 11:55 AM

Half Day for Students - Dismissal

3
4
5
6
7
8
9
10
11
12
13
14

Dec 14

5:30 PM to 6:30 PM

15
16
17
18
19
20
21

Dec 21

3:45 PM to 4:45 PM

School Improvement Meeting (SIT)

22
23
24
25
26

Dec 26

Winter Holiday Recess (No School)

27

Dec 27

Winter Holiday Recess (No School)

28

Dec 28

Winter Holiday Recess (No School)

29

Dec 29

Winter Holiday Recess (No School)

30

Dec 30

Winter Holiday Recess (No School)

31

Dec 31

Winter Holiday Recess (No School)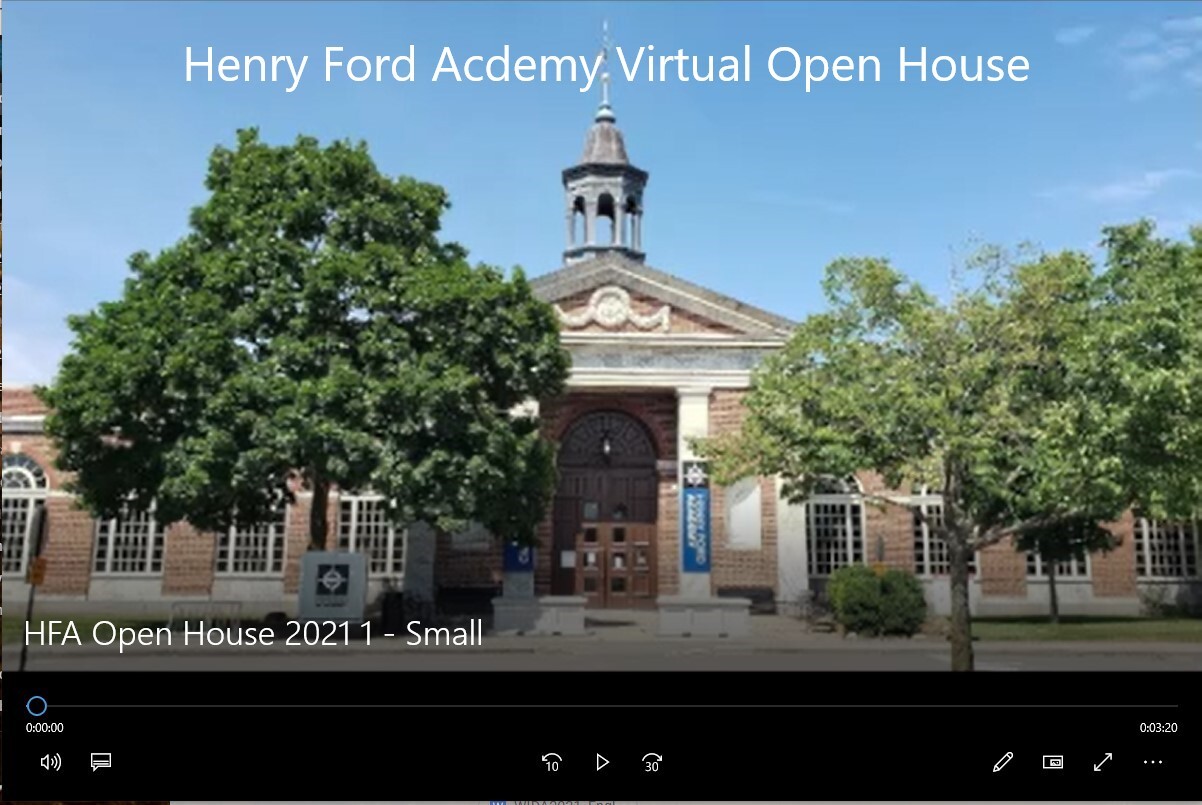 Non-Discrimination Policy
Non-Discrimination Policy
The District will not discriminate against any person based on sex, race, color, national origin, religion, height, weight, marital status, handicap, age or disability. The Board reaffirms its long-standing policy of compliance with all applicable federal and state laws and regulations prohibiting discrimination including, but not limited to, Titles VI and VII of the Civil Rights Act of 1964, 42 U.S.C. §§ 2000d. et.seq.; and 42 U.S.C §§ 2000e, et seq.; Title IX of the Educational Amendments of 1972, 20 U.S.C. §§ 1681, et seq.; Section 504 of the Rehabilitation Act of 1973, 29 U.S.C § 794; The Americans with Disabilities Act of 1990, 42 U.S.C. §§ 1210, et seq.; the Persons with Disabilities Civil Rights Act, MCL §§37.1101, et seq.; and the Elliott-Larsen Civil Rights Act, MCL §§ 37.12101, et seq.
Inquiries or complaints by students and/or their parent(s)/guardian(s) related to discrimination based on disability/handicap should be directed to

Assistant Principal/Mr. Michael Flannery
Henry Ford Academy
20900 Oakwood Blvd
Dearborn, MI 48124
(313) 982-6191
Discrimination and Harassment (Title IX) Grievance Procedures
Henry Ford Academy is dedicated to maintaining a school and work environment free from unlawful sexual discrimination in all aspects of the educational experience, including academics, extracurricular activities, and athletics.
Reporting and grievance procedures for Henry Ford Academy.
Report the situation to a staff member, administrator

Staff members promptly notifies Title IX coordinator

Title IX coordinator promptly begins a Title IX investigation

Title IX Investigation Steps:

Explanation of Complaint is recorded

Investigation and collection of evidence

Remedies and actions taken

Closure
Title IX Coordinator/Mr .Michael Flannery
Henry Ford Academy
20900 Oakwood Blvd
Dearborn MI, 48124
313-982-6191
Harassment/Bullying Policy
Harassment/Bullying Policy
Henry Ford Academy is committed to protecting students and staff from harassment or bullying and to maintain a safe and secure environment. Bullying and harassment in regards to one's sex, gender, race, nation of origin or disability is prohibited. Students who engage in unwelcome verbal, written, or physical conduct that offends, denigrates, or belittles an individual is harassment and may result in suspension and/or expulsion from the Academy.
Types of Harassment/Examples
Verbal Harassment

Examples: Name calling, profanity, put-downs, racial/sexual slurs

Sexual Harassment

Examples: Unwanted/unsolicited displays of affection, touching, sexual jokes/conversation

Physical Harassment

Examples: Bullying, pushing, hitting

Cyber Harassment

Cyber Harassment

Examples: Name calling, profanity, put-downs, racial/sexual slurs posted on the internet or sent via electronic devices.
Students who feel they are being harassed or bullied should report it to the Counselor, Assistant Principal, or Principal.
Sign up for HFA Text Alerts

CLICK ON THE GRAPHIC ABOVE FOR EBT INFORMATION
Students must be enrolled in a Michigan School

Participate in a virtual or hybrid school schedule

Be eligible for free or reduced lunch or attend a Community Eligibility Provision school
Spotlights
Congrats Mrs. Kuhowski for 20 years of immeasurable contributions to HFA!
Thanks for all you have done to teach our students throughout the years, and for showing incredible dedication to helping staff and students navigate the often irritating world of technology, you are tremendous!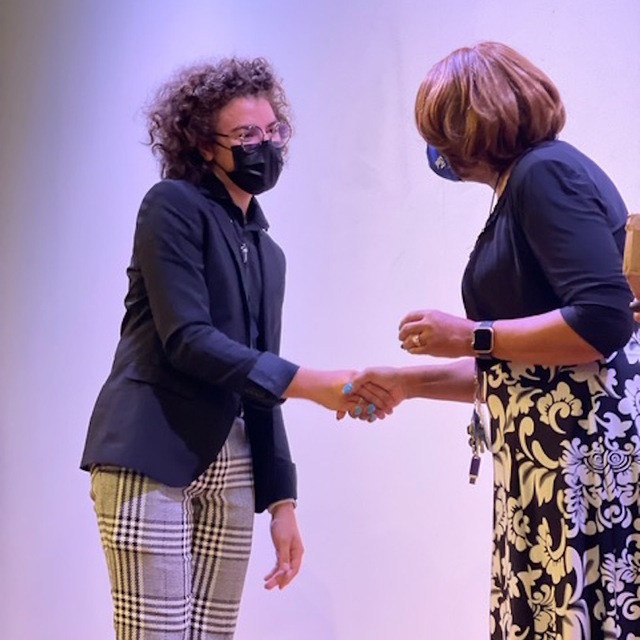 HFA Senior Pinning Ceremony
HFA welcomed the Class of 2022 with the Senior Pinning Ceremony. Senior President, Bryce Kilburn, delivered an inspiring speech before his fellow seniors received their pins. Congratulations to our Senior Navigators!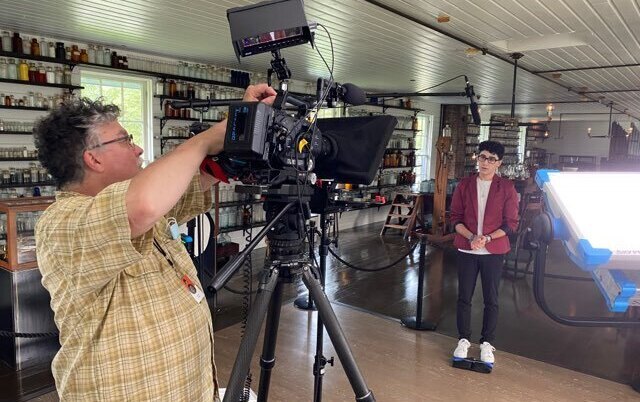 HFA Students & THF Virtual Invention Convention Finals
Henry Ford Museum's production department filmed a virtual field trip for the Invention Convention Global Finals this summer. HFA students, Amr Brown (Junior) and Katie Johnson (Senior) gave presentations at numerous sites around the museum campus.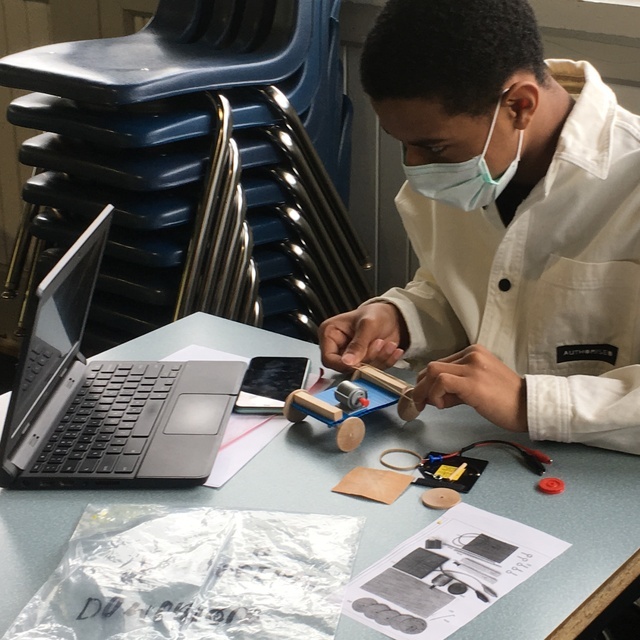 Student Solar Cars
In-person and virtual HFA students in Mrs. Goodman's STEAM-2 class raced and built Solar Cars to further their interdisciplinary knowledge of Science, Technology, Engineering, Arts, and Mathematics.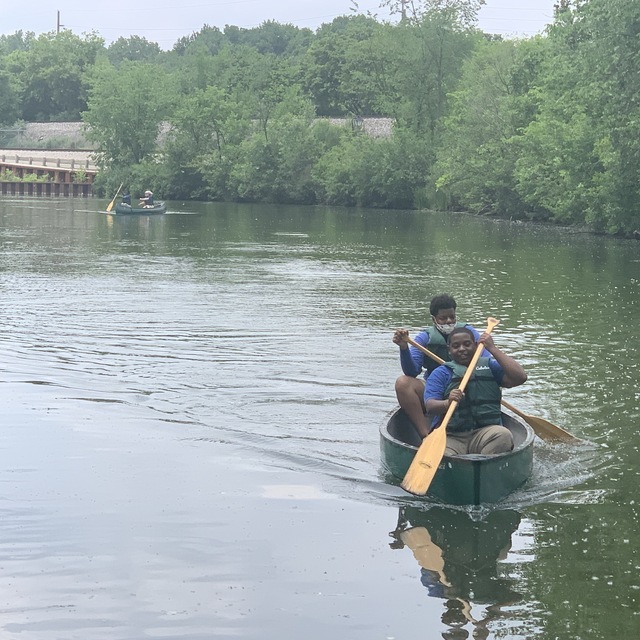 Students Exploring the History of Transportation
Mr. Koslowski teaching students the importance of early transportation of goods in his Village History course. HFA students got to put themselves into the shoes of the early pioneers as they canoed around campus.
Bungee Jump Challenge
Students in Mr. Pazur's Class learn the Math and Physics behind creating a bungee jump that is both exhilarating and safe.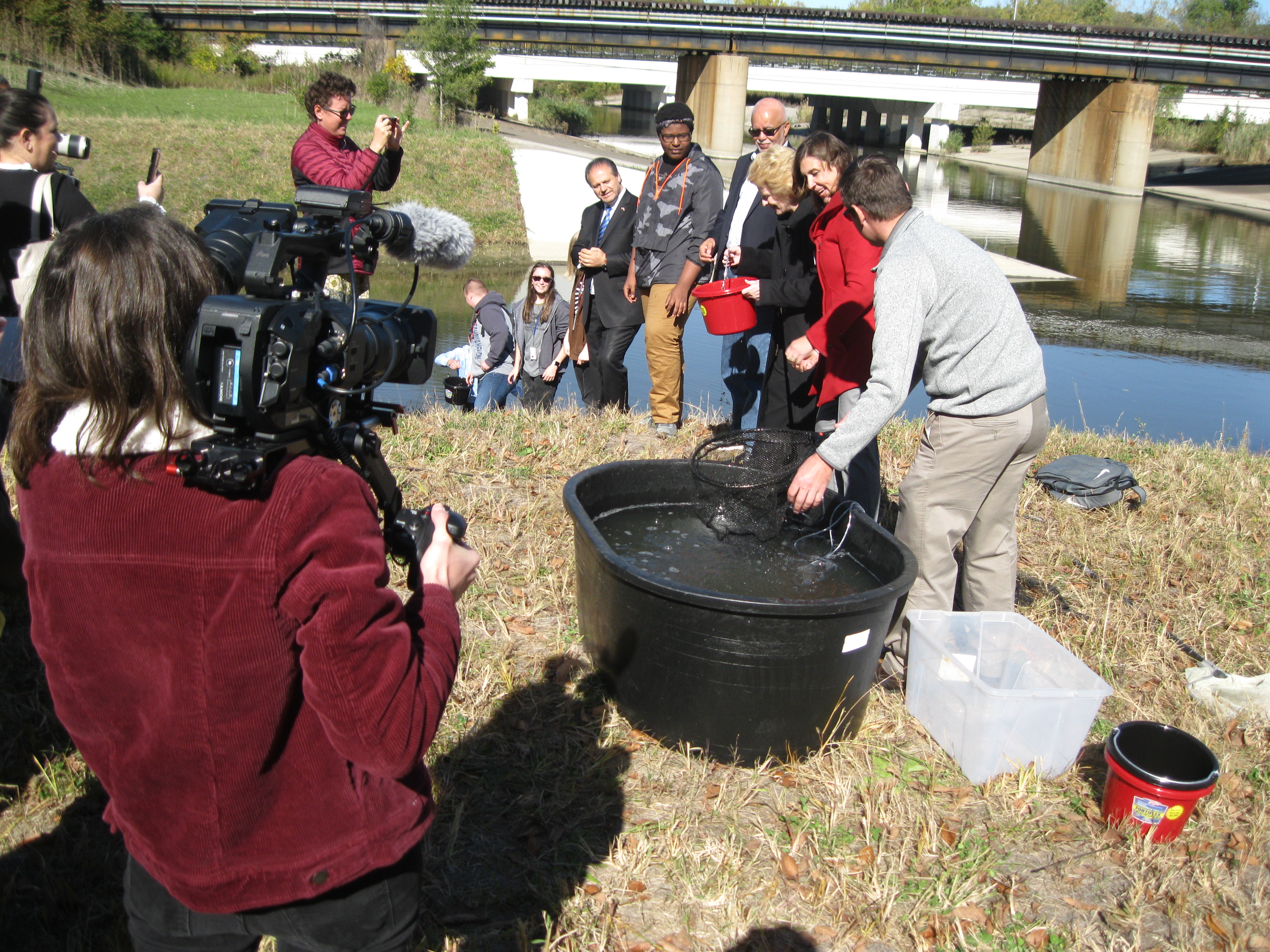 Ecology of the Oxbow Course Students Make the News!
Students in Ecology of the Oxbow were featured with local and state dignitaries in the dedication of the Rouge River Oxbow Project. Their class studied water quality and ecosystems right here at The Henry Ford.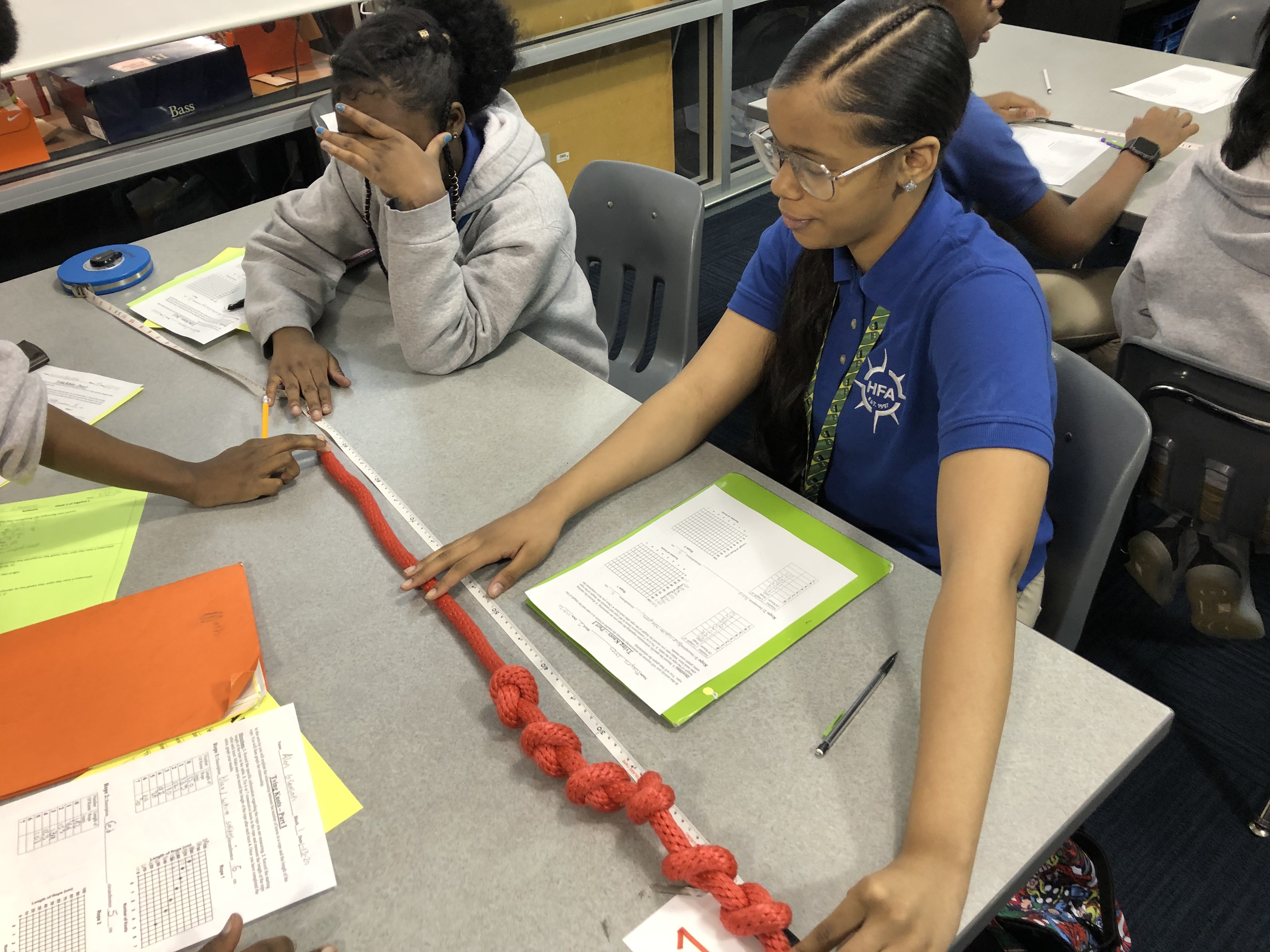 Learning By Doing! at HFA
Students in Ms. Osborne's Algebra I class learn about Linear Equations by using the Knot Lab. They looked at the mathematical relationship that resulted from tying additional knots in various ropes and graphed the equation. Algebra, meet the real world!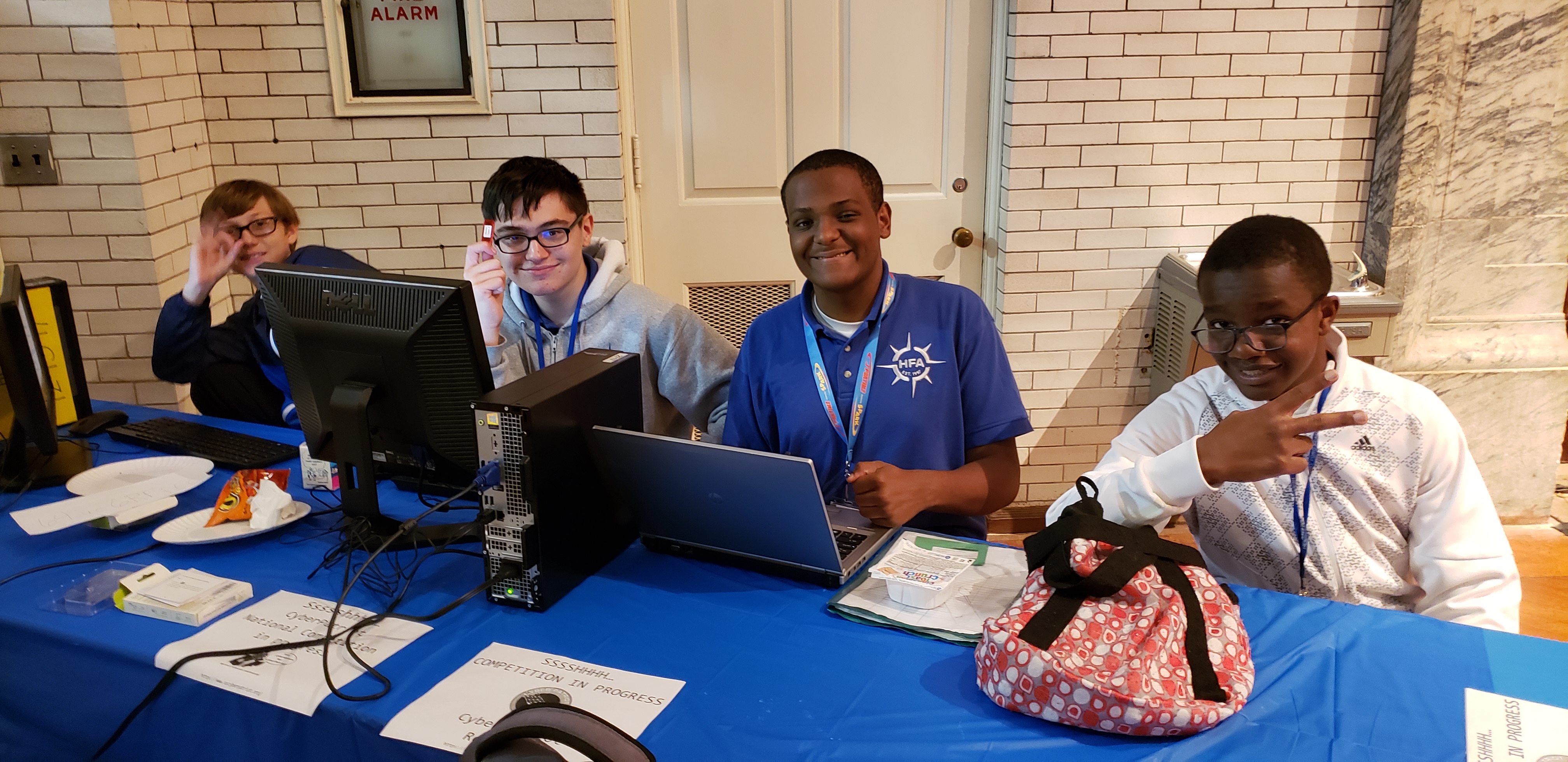 eSports and CyberPatriots
HFA students compete on the athletic field, but also on computers! Two clubs compete against other schools in both video game competitions and simulated anti-cyber attack competitions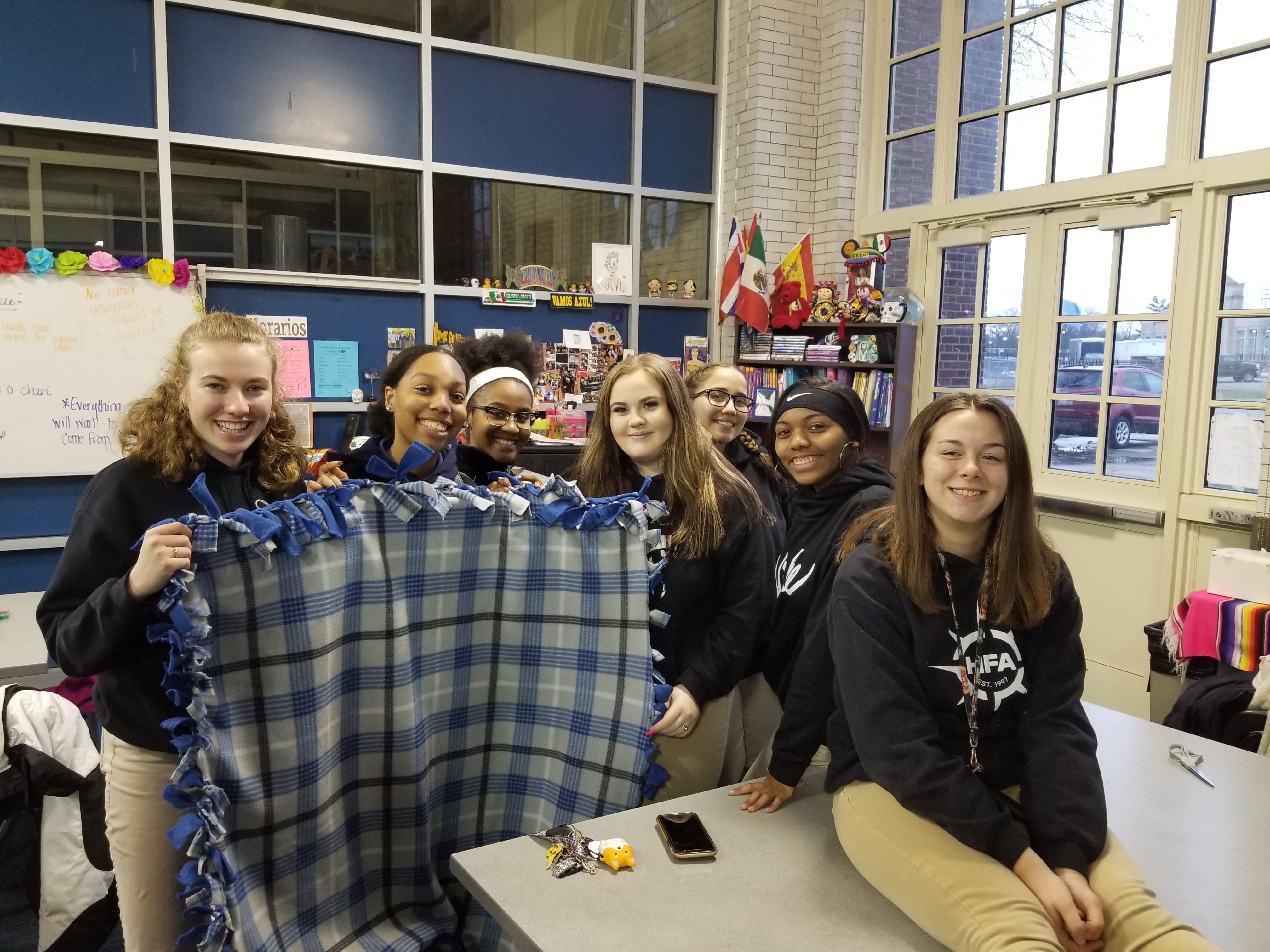 HFA Students Give Back to the Community
HFA Students in the National Honors Society create blankets for the needy. HFA offers a variety of ways to give back to the larger community