Welcome to

Henry Ford Academy

Innovate. Achieve. Make History.
Calendar
Calendar

‹

June

2019

›

S
M
T
W
T
F
S
1
2
3
4
5
6
7
8
9
10

Jun 10

5:30 PM to 7:30 PM

Ford Community and Performing Arts Center

11
12

Jun 12

2:15 PM to 3:30 PM

Final Assessments (Block 5)

13

Jun 13

8:30 AM to 10:55 AM

Final Assessments (Blocks 1, 2)

14

Jun 14

1/2 Day For Students (Last Day of School)

8:30 AM to 10:55 AM

Final Assessments (Blocks 3, 4)

15

Jun 15

10:00 AM to 1:30 PM

Navigators Athletic Booster Club Car Wash Fundriaser

Location:

Cherry Hill Presbyterian Church, 24110 Cherry Hill St, Dearborn, MI 48124, USA

16
17
18
19
20
21
22
23
24
25
26
27
28
29
30
Non-Discrimination Policy
Non-Discrimination Policy
The District will not discriminate against any person based on sex, race, color, national origin, religion, height, weight, marital status, handicap, age or disability. The Board reaffirms its long-standing policy of compliance with all applicable federal and state laws and regulations prohibiting discrimination including, but not limited to, Titles VI and VII of the Civil Rights Act of 1964, 42 U.S.C. §§ 2000d. et.seq.; and 42 U.S.C §§ 2000e, et seq.; Title IX of the Educational Amendments of 1972, 20 U.S.C. §§ 1681, et seq.; Section 504 of the Rehabilitation Act of 1973, 29 U.S.C § 794; The Americans with Disabilities Act of 1990, 42 U.S.C. §§ 1210, et seq.; the Persons with Disabilities Civil Rights Act, MCL §§37.1101, et seq.; and the Elliott-Larsen Civil Rights Act, MCL §§ 37.12101, et seq.
Inquiries or complaints by students and/or their parent(s)/guardian(s) related to discrimination based on disability/handicap should be directed to

Assistant Principal/Mr. Michael Flannery
Henry Ford Academy
20900 Oakwood Blvd
Dearborn, MI 48124
(313) 982-6191
Discrimination and Harassment (Title IX) Grievance Procedures
Henry Ford Academy is dedicated to maintaining a school and work environment free from unlawful sexual discrimination in all aspects of the educational experience, including academics, extracurricular activities, and athletics.
Reporting and grievance procedures for Henry Ford Academy.
Report the situation to a staff member, administrator

Staff members promptly notifies Title IX coordinator

Title IX coordinator promptly begins a Title IX investigation

Title IX Investigation Steps:

Explanation of Complaint is recorded

Investigation and collection of evidence

Remedies and actions taken

Closure
Title IX Coordinator/Mr .Michael Flannery
Henry Ford Academy
20900 Oakwood Blvd
Dearborn MI, 48124
313-982-6191

Parents and Students
Sign up for HFA text message alerts:

Text @hfa1997 to 81010

Spotlights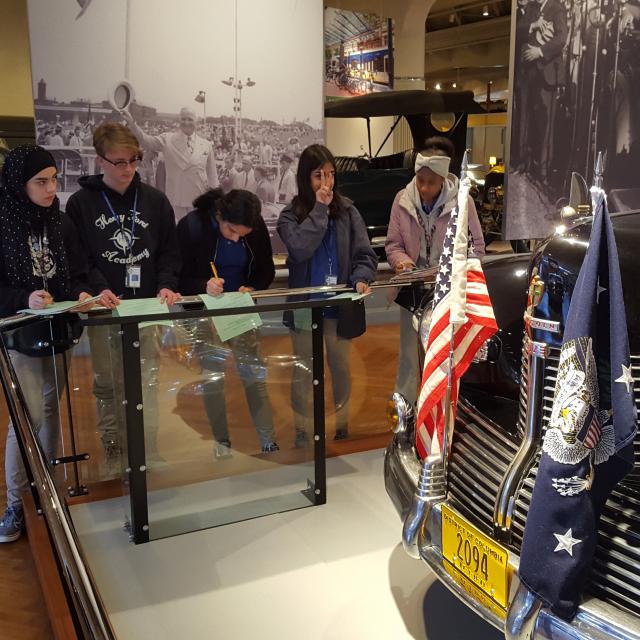 History Spotlights
Last week Mr. Burton's History class made an interesting trip to investigate the history of presidential vehicles. Everything from teddy Rosevelts carriage to the famous JFK limo were investigated.
Experiencing History
On Wednesday the 10th grade HFA students visited the Susquehanna plantation and Hermitage Slave quarters at Greenfield Village. It was an interesting look into the life of a slave before the civil war and helped in our discussion of the 13th, 14th and 15th amendments to the Constitution.