Bradley Hinken, Class of 2013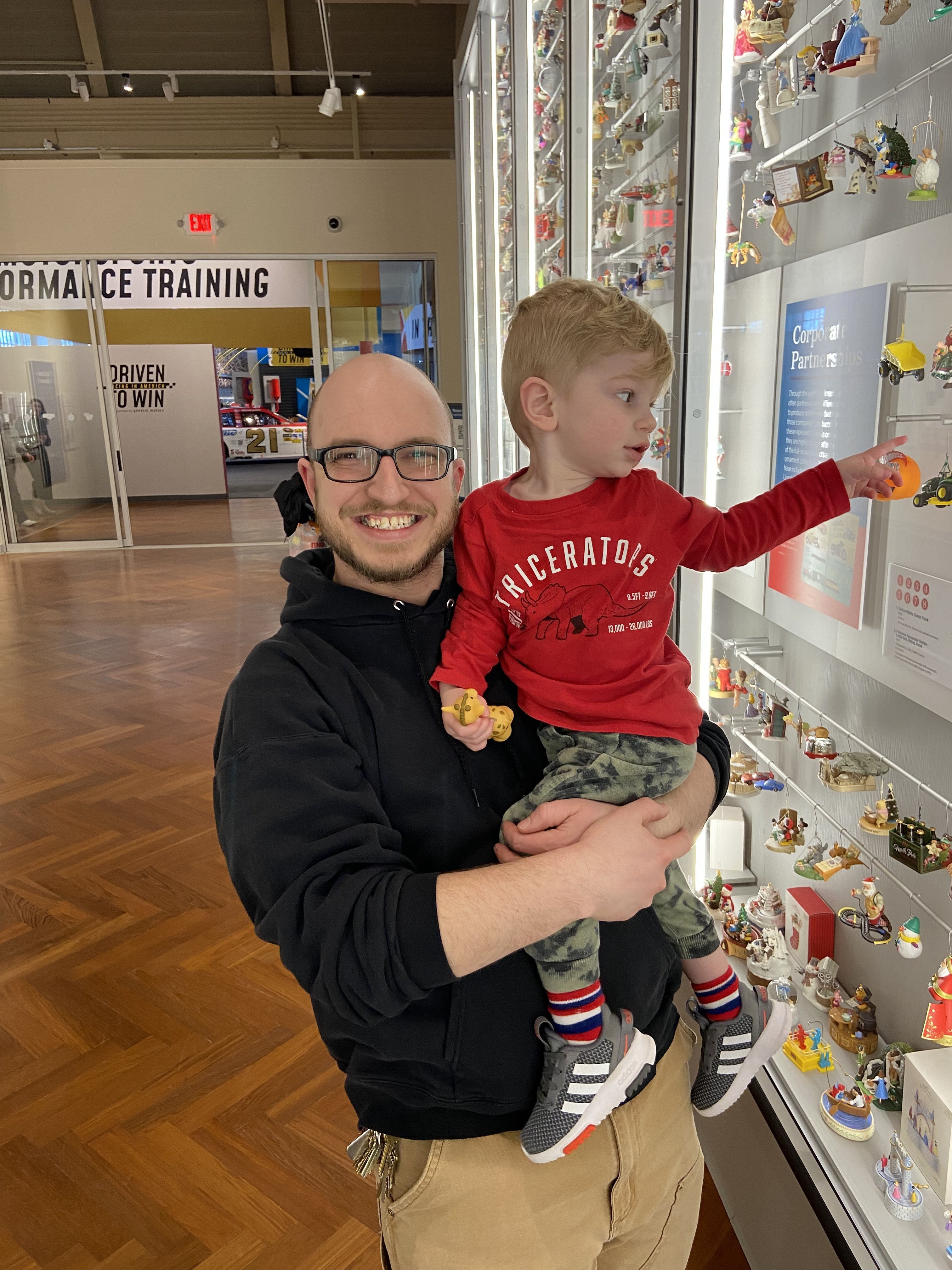 Henry Ford Academy is proud to shine the Alumni Spotlight onto Bradley Hinken, in recognition of his commitment and dedication to showcasing history within the walls of the Henry Ford Museum of American Innovation.
Starting in June of 2013 (yes, that's two weeks after Bradley graduated from HFA), he started working for The Henry Ford on the Exhibits Team. For the past 10 years, he simultaneously worked at THF and attended the University of Michigan-Dearborn receiving his Bachelors in History and Political Science, culminating to today where Bradley is the newest Exhibits Manager. He now leads the team he has served on for the past decade.
A day in the life of Bradley today means that no two days are the same. Some days consist of meetings that range in various discussion topics from current Exhibit and Collection tasks, upcoming installs/de-installs and logistics, as well as long term planning and development.
Enjoy these links of Bradley assisting in the installation of the 1966 Volkswagen Special Deluxe Wagon and hanging up the nearly 7,000 Hallmark Ornaments of the new THF exhibitions.
Bradley gives credit to his experience at HFA, which led him to his passion for his career. He explains, "I always loved history, but being a student here [at HFA] brought history to life and inspired me to pursue a career in the museum world. In a very practical way HFA is the reason I have my job today. During the fall of my senior year, I did my practicum with the then Exhibits Manager who offered me a job following my internship and the rest is history [no pun intended]. I have a career I love at a place I love BECAUSE of HFA."
Looking back on Bradley's experience at HFA he positively recalls his involvement with Gatorbots, and favorite classroom moments, such as when Ms. Goodman lit a $20 bill on fire and shocked the class, or during Mr. Kos' lesson on the Boston Massacre involved throwing paper balls at each other for educational reasons to demonstrate how in times of tension and chaos it's easy to miss interpret and cause a chain reaction.
Bradley would like to personally thank Ms. Goodman and Mr. Kos for his impactful experiences with Gatorbots and his discovery of his passion for history. Mrs. Goodman's kindness, great sense of humor, mountains of knowledge, and wisdom truly changed his life. He recalls the great memories created in the car on the way to robotics competitions, and team strategy sessions in her living room with the Gatorbots team. "Thank you Ms. Goodman for the laughs, the lessons, the fun, the friendship, and everything else!"
To Mr. Kos, he expresses his gratitude for not only the lessons he learned from attending all the classes offered, but for his work with Mr. Kos in the three year time period he spent at the Westland Historical Commission. Bradley states, "Kos not only fostered my love of history but also enjoyed my nerd outs of cool historical facts. He exemplified how important and enjoyable history is. I can honestly say I compared every professor I had in college to Kos and believe me, Kos was better because he's one of a kind. THANK YOU for your mentorship, your guidance, your wisdom and your friendship!"
In terms of advice to current Henry Ford Academy students, Bradley says, "This may sound cliche but keep pushing forward. I believe no one is here by mistake. Everyone alive has a purpose and reason, God makes no mistakes. Keep pushing. Obstacles will come, keep pushing. Fear will come, it's normal, keep pushing. Haters will come, that's a sign of success, keep pushing. Rejection will come, doubt will come, hardships will come, life won't be fair, but in everything… KEEP PUSHING! Everything in life that is worth having is formed through pressure, heat or both. Coal becomes diamonds through pressure and heat. Gold ore becomes beautiful and usable when it is melted in extreme heat. When you are growing, thriving, and learning you will face heat, pressure or both. Don't let it Define you but let it Refine you. I am who I am today because of the heat and pressures of life that have made me. Growth takes time, be patient with yourself. Take each day as it comes, learn the lessons presented to you that day, in that moment. You will fail and it is okay, just learn from it and keep pushing. Failure is only a problem when you let it stop you."
Thank you Bradley for being our newest HFA alumni spotlight! Please join us in recognizing Bradley Hinken for his dedication and commitment to the preservation of history within the walls of The Henry Ford!
Kristen Krause, Class of 2007
Kristen Krause, Class of 2007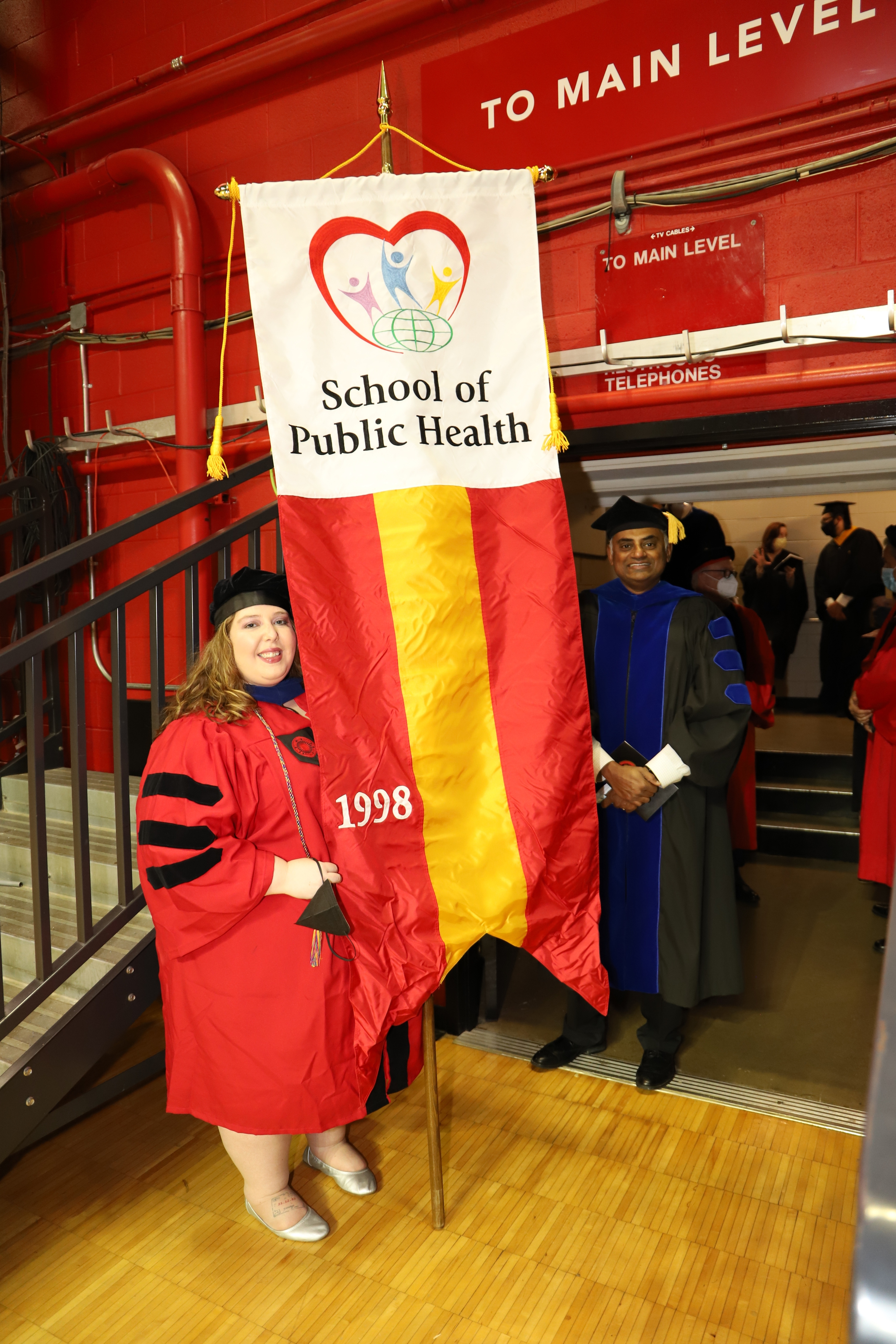 Henry Ford Academy is proud to shine the Alumni Spotlight onto Kristen D. Krause, in recognition for her contribution and commitment to public health and the LGBTQ+ community.
Kristen currently serves as a faculty member at the Rutgers School of Public Health in Newark, New Jersey, Deputy Director of the Center for Health, Identity, Behavior, and Prevention Studies (CHIBPS), and the Interim Director for the LGBTQ Health concentration. She completed her BA in Anthropology (with Honors) at the University of Michigan in 2011, a Master of Public Health in Community and International Health at New York University in 2015, and a PhD in Social and Behavioral Health at Rutgers, the State University of New Jersey in 2020.
Kristen notes that while going through her PhD defense process she reflected back on her experience of the HFA Senior Defense process, and was "grateful to have gone through that at a relatively young age." She wholeheartedly believes her, "experience going through the SMP helped prepare [her] for what that day was going to look like. From the presentation, to the questions afterwards, to the grade deliberation at the end.
Everyday looks a little different for Kristen, but most days involve a mix of research, teaching/mentoring, and service on various School- and University-wide committees. She writes a lot of manuscripts, grants, and OpEds, giving lectures, and traveling to conferences throughout the United States and globally to present her research, which is focused on HIV/AIDS and broader LGBTQ health disparities.
Looking back on her time at HFA, Kristen is most proud to say that she was part of the first group that got to study abroad for three weeks in Pfullendorf, Germany near Lake Constance. She states, "We had such an amazing time being immersed in German culture and experiencing what it was like to be a high school student there. That trip helped solidify my wanderlust and desire to travel the world!"
She was most impacted by Mrs. Anttila (then Ms. Graybill) who showed her what it's like to be a strong, intelligent, compassionate, and forward-thinking woman with a great sense of humor and wit. She is grateful that Anttila and her family still are in contact and have maintained a relationship all these years.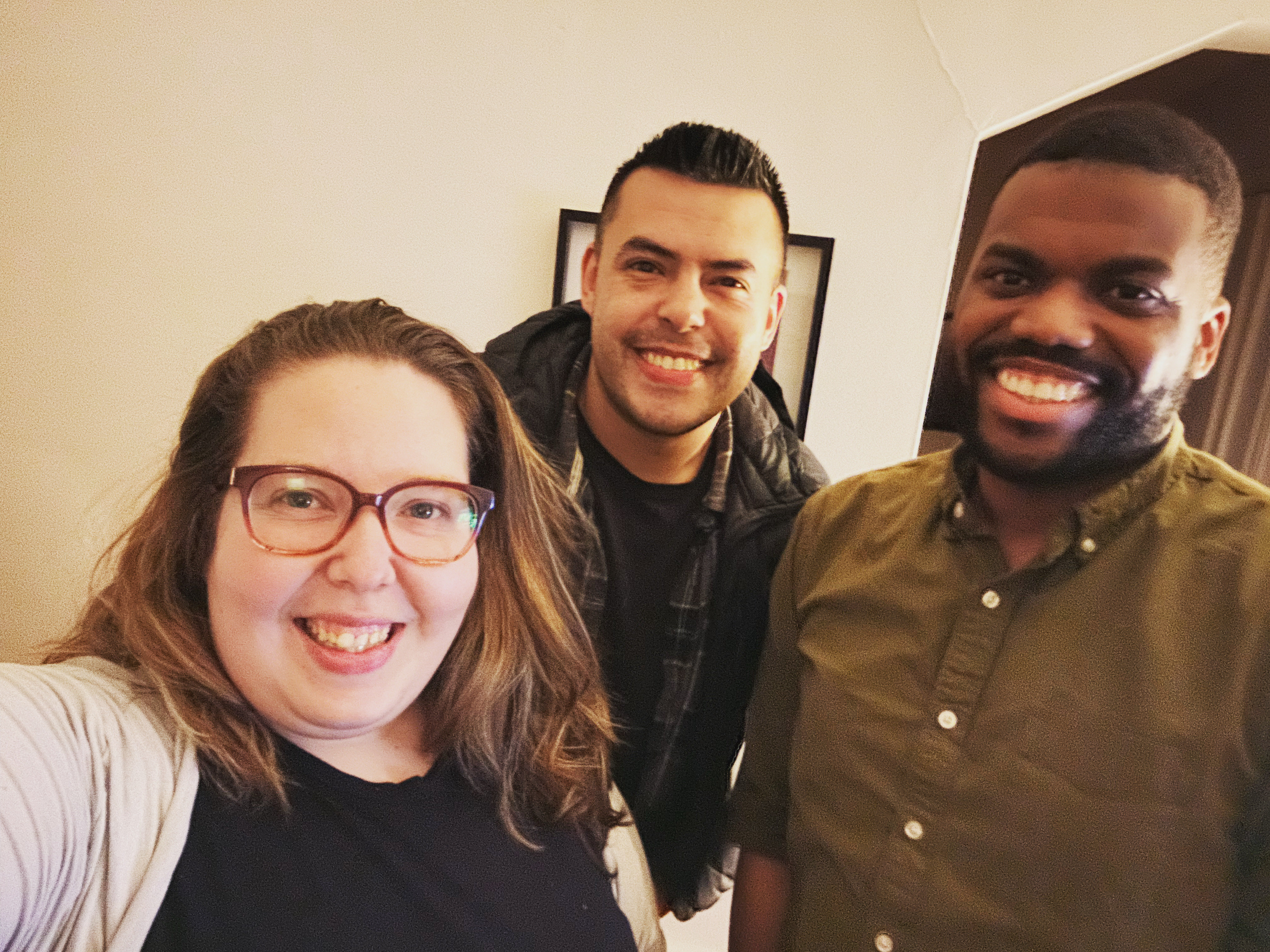 To leave a lasting impact on HFA's current students we asked Kristen what advice she would give them, she responded with:
"This is probably the most cliche answer, but enjoy your time at HFA and the opportunity to be immersed in all that Henry Ford has to offer. Of course the academic piece is important, but my best advice is to nurture and foster the friendships you build- I would not be the person I am today, and I would not enjoy my life as much if I weren't still best friends with Alexander Rodriguez and Ellis Johnson II who both graduated with me. Thanks to technology, we have weekly TV/Nintendo game nights on FaceTime, even though we live in different states now, we can still hang out and spend time together."
Thank you Kristen for being our newest HFA alumni spotlight to honor Pride Month! Please join us in recognizing Kristen Krause for her contribution and commitment to public health and the LGBTQ+ community!
Jourdan Felder, Class of 2013
Jourdan Felder, Class of 2013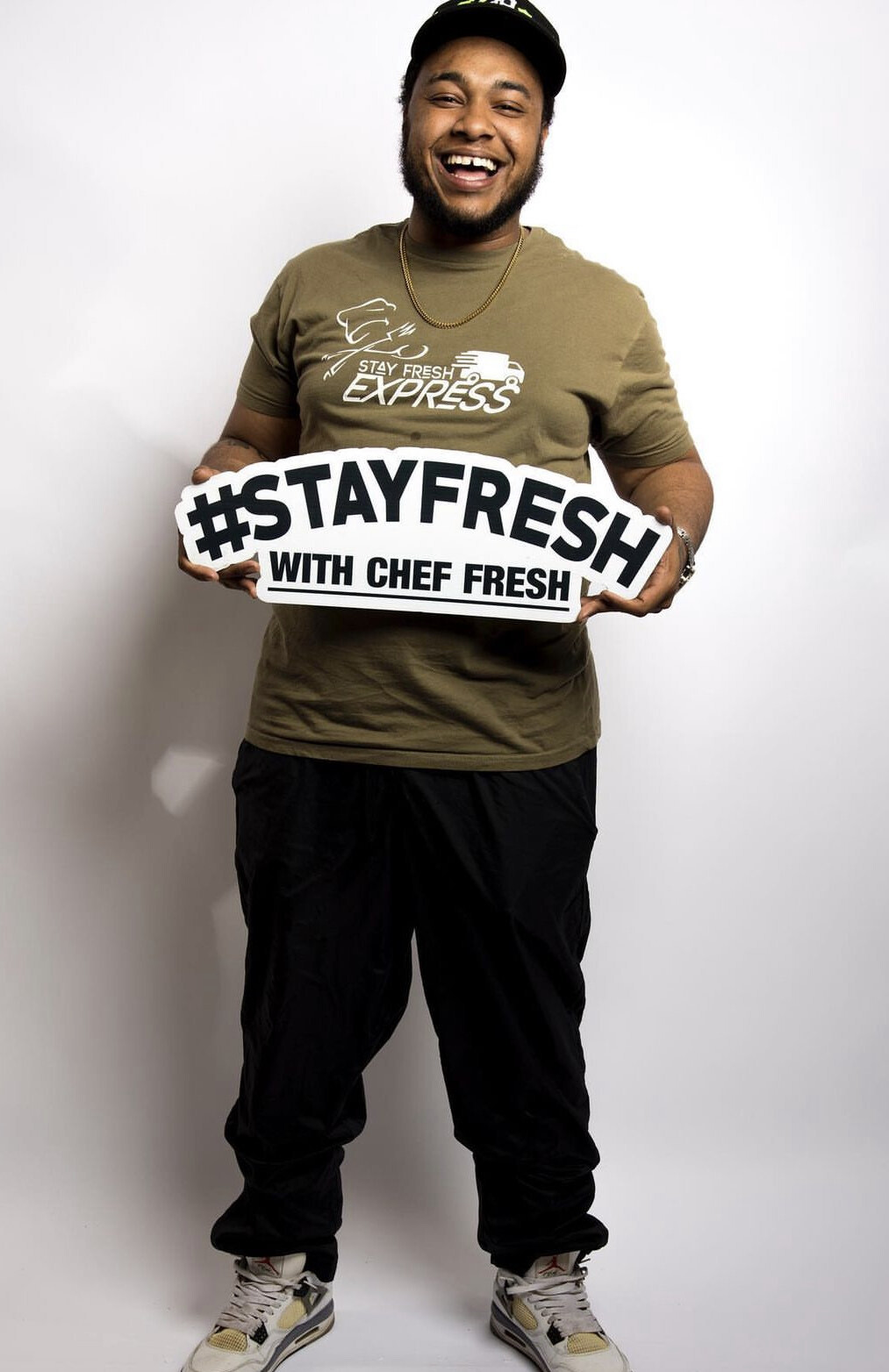 Henry Ford Academy is proud to shine the Alumni Spotlight onto Jourdan Felder, in recognition for his contribution and commitment to culinary excellence.
Jourdan is recognized today as Chef Fresh's head chef and owner of Stayfresh Express. To put it short, "We feed the streets." Jourdan has learned from HFA to "do what you have to do so you can do what you want to do." He may experience long days and nights in the kitchen, but he believes proper planning before taking action prevents poor performance. Jourdan explains that with these phrases in mind he's learned that doing the work, which means sometimes doing what you don't want to do, leads to rewards that have led to success.
A typical day in the life of Felder is filled with an entrepreneurial spirit. He takes pride in jumping up fresh in the morning to provide a go grab inventory for the people he feeds everyday. He states, "I'm a part of a Black restaurant investment company that buys restaurants and builds them up." Felder's most recent project involved rebranding Connie and Barbara's Soul Food Restaurant located off of West McNichols Road in Detroit, MI. His company also does many pop ups with other companies and artists such as Playboi carti, Babyface Ray, breitling (watches), and even Channel 4. Felder declares, "We create capital for ourselves to invest in ourselves."
Looking back at his time at HFA, Jourdan recalls one of his favorite memories when he opened up for the talent show during his senior year. His song "Where the Party At," was "fire" and the perfect opening for the show.
When reflecting on HFA teachers who have positively impacted his HFA experience, Jourdan would like to thank Mrs. Anttila, Mr. Leclerc, Mr. Cain, Mrs. Baldwin, Mr. Graves, Donna the Lunch Lady, and Mr. Haney. He thanks Mrs. Anttila for helping to build his confidence vocally by introducing himself to poetry slams. In some cases, Mrs. Anttila would come to support. Mr. Leclerc who was tough at first but only wanted the best for you. Much appreciation to Mr. Cain for showing that representation matters and for providing students with a musical outlet. Mrs. Baldwin for being the motherly figure everyone needed that connected with all of her students, Felder explains that, "she helped me so much mentally and with food!"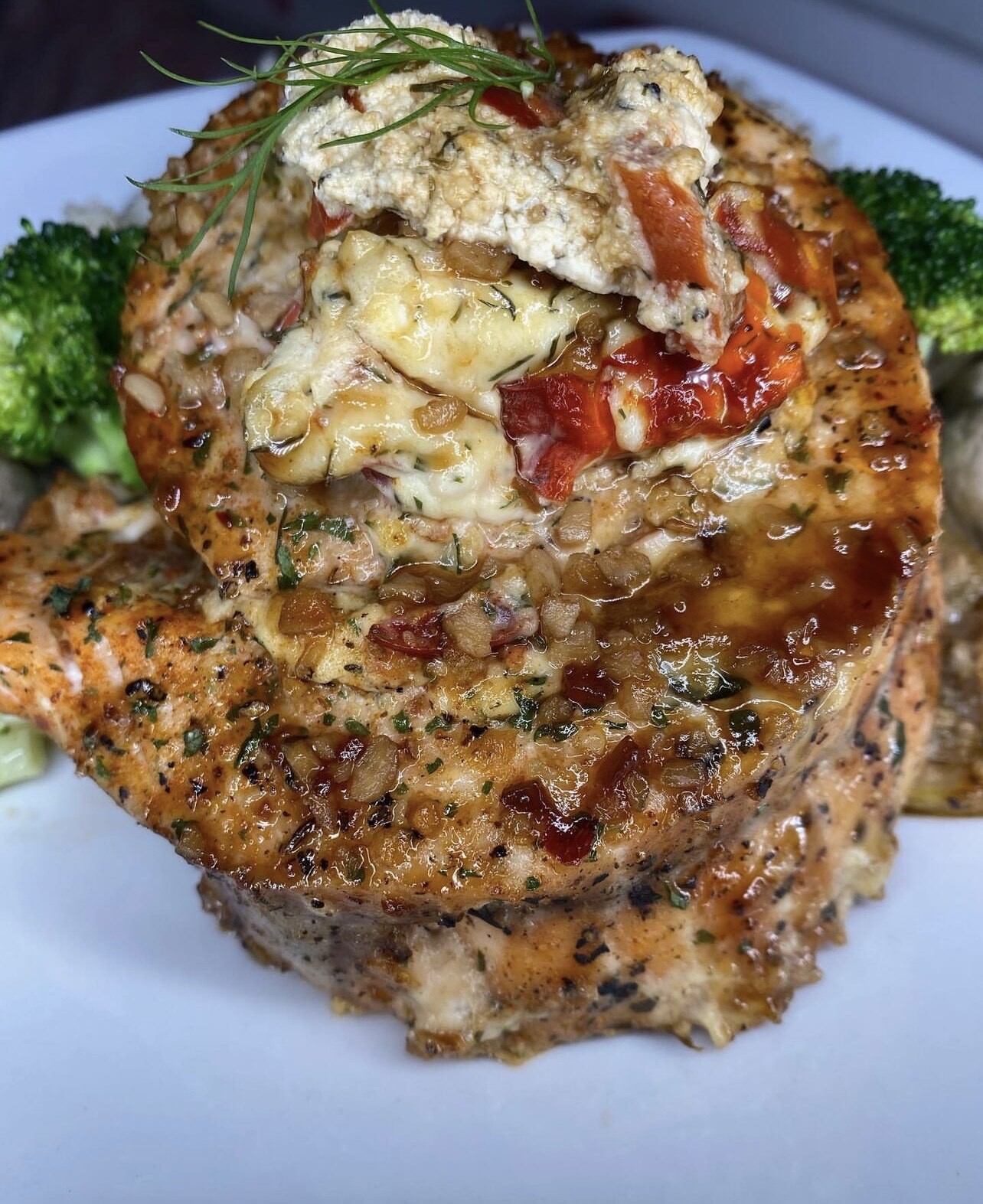 Felder gives a huge thank you to Mr. Haney who, "reminded us that being a good person is okay and to always represent yourself the best way you can. He connected to many of us just from being relatable and that helped many of us stay focused. Always was available when I needed advice and to this day he's still very helpful. Haney shared life stories that were relatable to the youth and lessons on making better choices. The encouragement and advice combo makes Haney one of a kind. I appreciate him so much, I don't think he understands how much his support means."
Lastly, we asked Felder if he had any advice for our current HFA students. His response was, "Know what you like. Learn yourself. It's okay to not know but don't roam with no direction for too long. Try new things. It's okay to be yourself, the world will love you more that way. Believe in your flyness and conquer your shyness."
Thank you Jourdan for being our newest HFA alumni spotlight! Please join us in recognizing Jourdan Felder for his entrepreneurial accomplishments and his drive for culinary excellence!
Damien Fullerton, Class of 2020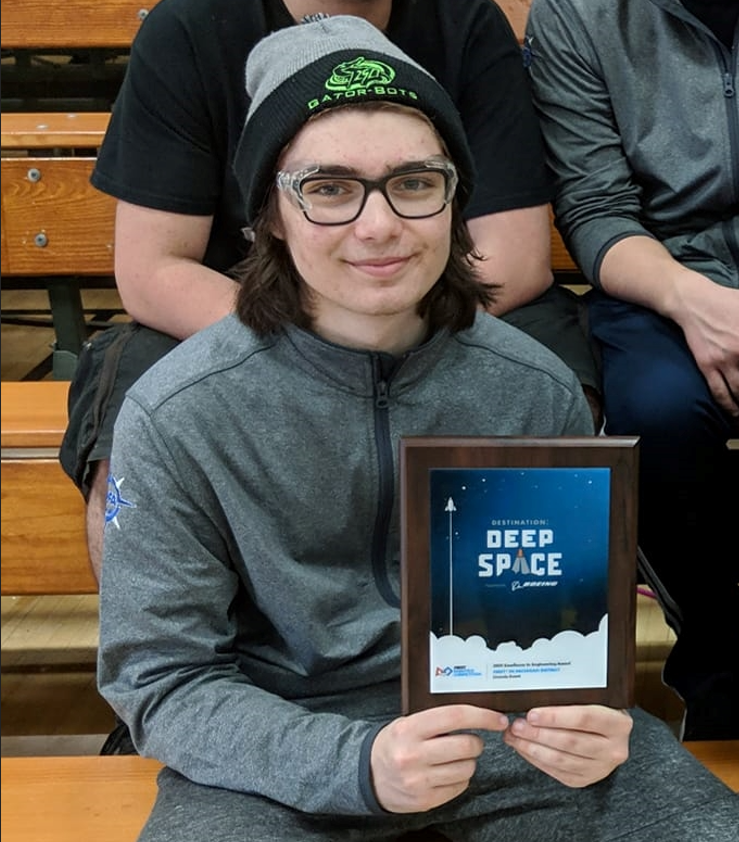 We're pleased to introduce Damien Fullerton to the HFA Alumni Spotlight page for his accomplishments in the field of electrical and biomedical engineering, as well as his volunteer efforts with HFA Robotics.
Fullerton graduated from HFA as salutatorian in 2020. Looking back on his four years at HFA he describes his time as,"amazing years that most definitely changed my life for the better." As a dual enrollment student, Fullerton completed 27 credits through Henry Ford College while still in high school; taking medical classes such as: Anatomy and Physiology, Chemistry, and Biology. He currently is attending the University of Michigan, pursuing a bachelors in electrical engineering and biomedical engineering. He is expected to graduate in 2024.
Fullerton was a devout member of the Gator Bots FRC team and states that he owes, "an unpayable debt to the mentors and teachers that made it so amazing and taught me so much. I would like to particularly thank Ms. Goodman at HFA and Brian Moorhead at Quantum Whatever LLC for everything they do for the robotics team." For Fullerton, Robotics gave him a direction in life and something to look forward to after school. He recommends any students who are even remotely interested in Engineering, Software, or Data Analytics to give Robotics a try. He proudly describes Robotics as his second family and to this day, he still helps out as a CSA (Control Systems Advisor) for FIRST at robotics events.
Looking back on his time at HFA, in the summer after 11th grade Fullerton took the opportunity to do his practicum with a mentor from the robotics team working at Quantum Whatever LLC. He learned so much about battery management systems and gained a lot of experience that he "wouldn't have been able to get any other way." Although he doesn't see himself in the battery field at this point, Fullerton was able to continue the momentum of this experience after graduation to land an internship at ZDR Inc., a biomedical firm just outside of Ann Arbor, where he designed implants and custom tools for doctors to use during operations.
He recalls one of the first projects during his internship where he drafted technical drawings and CAD which was used to reduce the amount of bone that needs to be removed during toe joint replacements. Fullerton states that, "these kinds of things make me extremely proud to be able to use my knowledge from HFA/Robotics to help others on a mass scale." Fullerton continued summer internships throughout his college career. He was contracted by ONE, a battery company in Novi, MI, to work on battery charger system design. He again used his knowledge gained from senior practicum and robotics to help ONE out with a project intended to lower their cost of operations by creating a low cost solution, for an expensive problem.
Recently, Fullerton was offered a summer work opportunity for Nuro, an autonomous robotics company that is on the bleeding edge of autonomous food/grocery delivery, based out of Mountain View CA in Silicon Valley. He will be designing printed circuit boards for the robot battery team. He states that, "while I think my college education has definitely helped me get here, I actually think HFA had a larger role in me finding success in the job market. I definitely feel under qualified to be working at Nuro just based on my time in college/age, but my experience in the field put me ahead, knowledge wise, of others my age."
As a word of advice for students at HFA, he hopes students exercise the immense amount of connections that sit in front of you to get experience in the workforce, whether that be through practicum, or building close relationships with teachers and mentors that can find you a way to get valuable experience.
Rodney Lewis, Class of 2013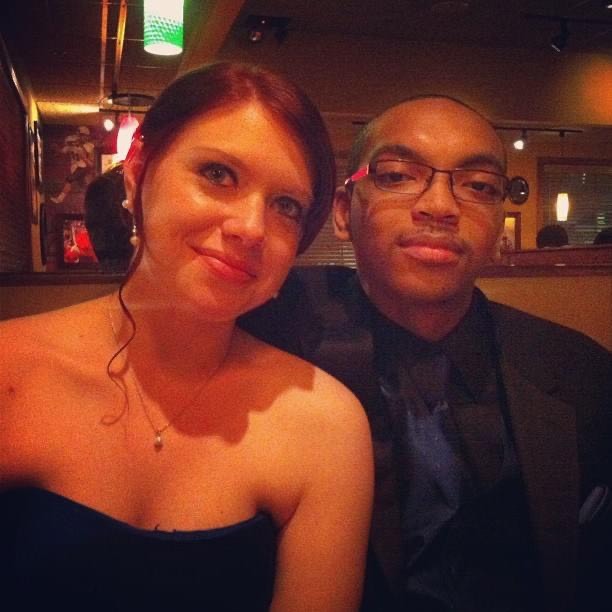 Henry Ford Academy is proud to shine the Alumni Spotlight on Rodney Lewis (2013), in recognition for his significant contribution and commitment to the field of software engineering and robotics.
Rodney graduated from University of Michigan-Dearborn with a Bachelors of Science in Software Engineering. He currently works as a Site Reliability Engineer (SRE) for Dynatrace, which is a software intelligence company. Rodney explains his role as the SRE is to monitor and maintain large scale servers in various cloud platforms (like AWS and Azure), that are used for Dynatrace's customers facing applications. He also designs and creates workflows or writes automation codes to make the monitoring of those servers easier to streamline processes dealing with those servers. Rodney, in short, makes it his goal to "keep the lights on" and to maintain 99.9% uptime (or close to that) for Dynatrace products.
HFA's Robotics Program sparked Rodney's interest in software engineering.He explains: "that the biggest thing HFA has provided me with is a possible outlet to provide industry knowledge and skills to the next generation, where I primarily helped with programming and control systems." Some of his favorite memories from his time at HFA were participating in the robotics program, attending town hall meetings, and meeting his future wife (dated throughout high school, and now are recently married).
Rodney's favorite teacher (or principal) was Rick Enright, who helped him get placed with the Henry Ford technical support team for his practicum project. Following Rodney's senior practicum project, he continued to advance his skills in software engineering through an independent study his senior year which helped to provide technical support for the Village campus at HFA. Rodney explains that: "although it seems small, I'd like to think that this was the start of my technical career because I continued to advance my skills and experience throughout my career leading to my role today as a SRE!" Rodney, would like to especially thank Mrs. Tammy Goodman who assisted him at HFA and offered tutoring sessions for several of his more difficult college level math courses. Rodney expresses that, "she always had my back."
Please join us in recognizing Rodney Lewis for his accomplishments and dedication in the field of software engineering!
John Puterbaugh, Class of 2013

Henry Ford Academy is pleased to honor John Puterbaugh (2013) in our Alumni Spotlight, in recognition of his significant commitment, service, and contributions to the HFA robotics program. We also want to recognize the broader impact John has made on robotics in Michigan.
Since John graduated from HFA, he has an been an extremely active volunteer for FIRST Robotics, volunteering at many activities and events. FIRST Robotics is the national entity through which our robotics team competes. Last year, John volunteered and worked an event every weekend during the "build" season, including working at the State Robotics Championship. This year, FIRST in Michigan asked him to become a Field Technical Advisor, a highly visible role with significant responsibility. As FTA, John reports to FIRST headquarters and is responsible for keeping the FIRST Robotics Competition field running smoothly and in accordance with FIRST requirements. Appointment as FTA results from nominations by current FTAs, Regional Directors, District Management, or headquarters staff, and is an extraordinary honor.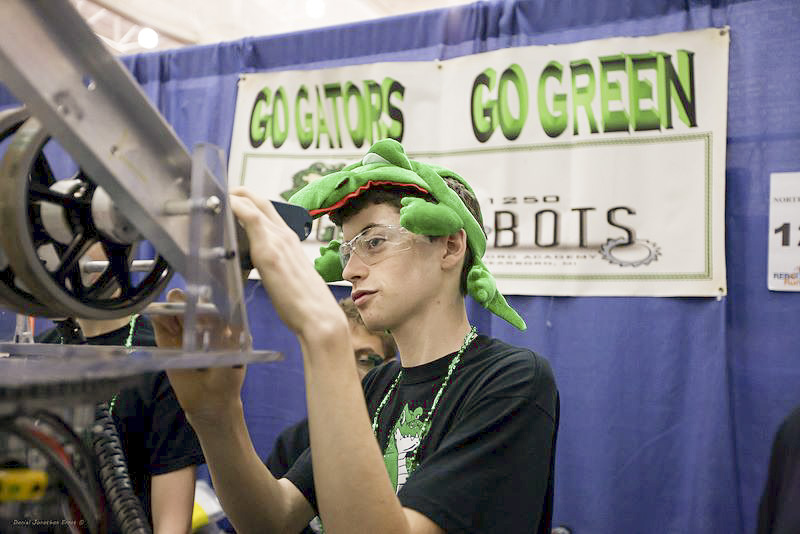 In addition to his FIRST duties, last year John returned to HFA and started mentoring our team, the Gator-Bots. "He has been unbelievably valuable to us as a mentor, giving graciously of his time," commented Tammy Goodman, HFA Teacher/Mentor for the team. "I don't know how we would have gotten through last year without him."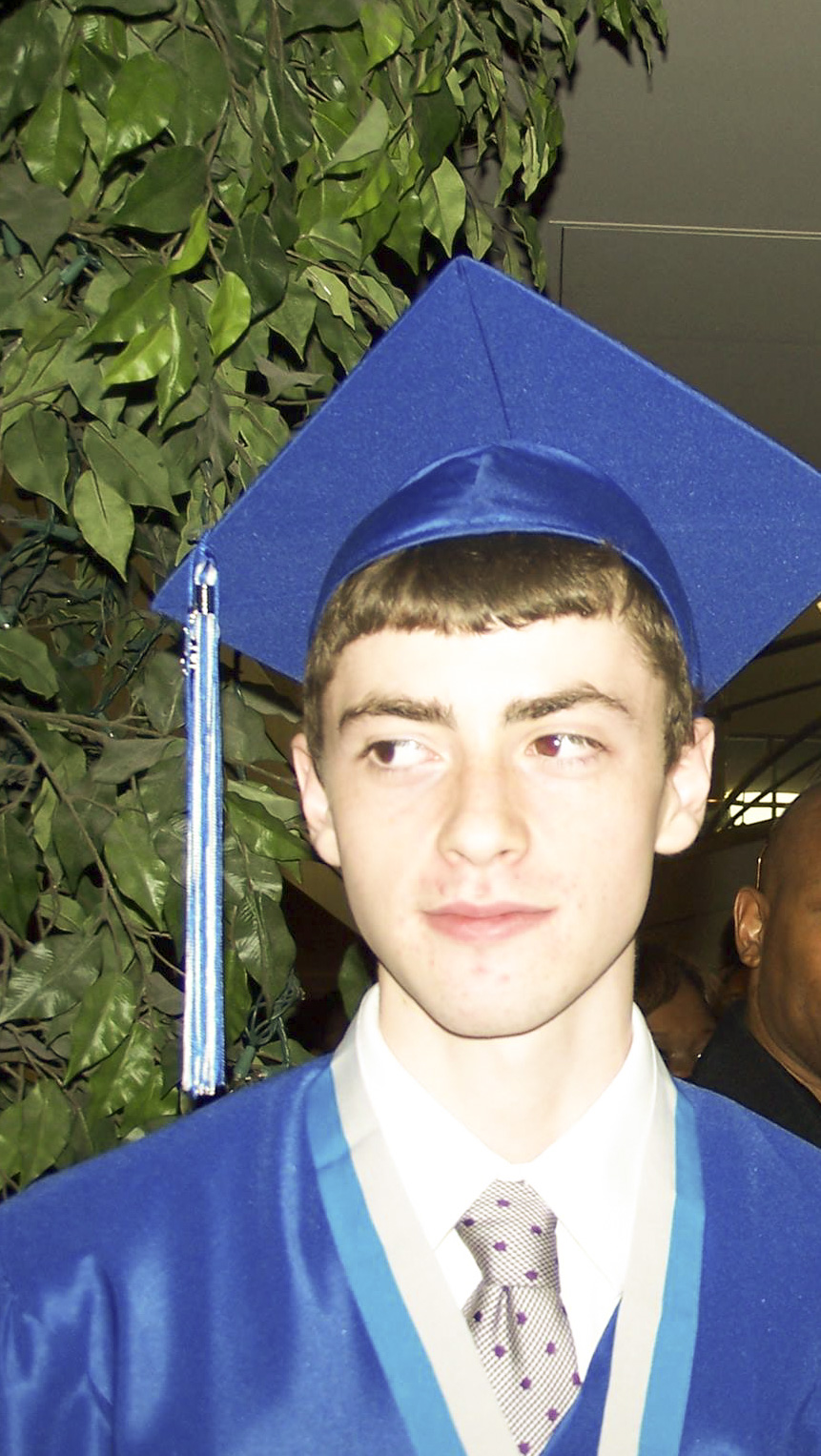 John has been mentoring students mechanically and on CAD (Computer Aided Design), having seamlessly made the transition from student to mentor. This year he generously purchased and donated over $1,000 of computer monitors for students to use at our CAD stations. In addition, John is making available for team use a new projector, Bluetooth speakers, and a projection screen that he recently purchased.
After graduating from HFA, John attended Michigan Technical University. He holds Unigraphics NX CAD certification from Siemens and works at International Design Corporation in CAD.
Please join us in applauding John for his service and "giving back" to HFA!
Ashleigh Anderson, Class of 2014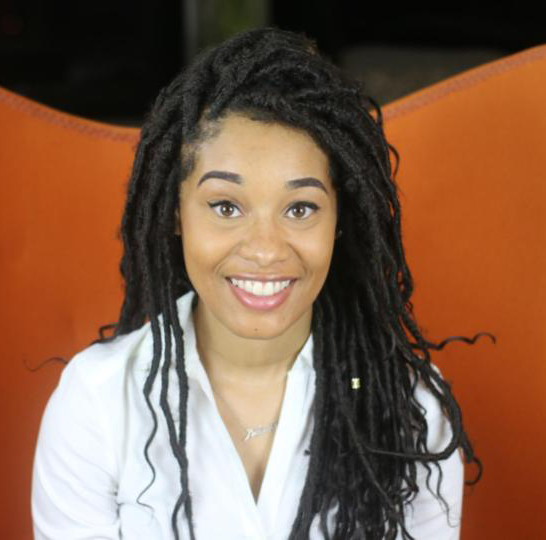 Henry Ford Academy is proud to shine the Alumni Spotlight on Ashleigh Anderson (2014), in recognition of her achievements at Wayne State University and commitment to serving the community, including award-winning research in the field of public health.
Ashleigh graduated from WSU in May with a Bachelors of Science in Public Health, earning Departmental and University Honors. She will be attending University of Detroit Mercy in the fall, enrolling in the accelerated nursing program for students pursuing a second degree. With completion of that program, Ashleigh will become a registered nurse by December 2019.
In the summer of 2017, Ashleigh joined WSU's McNair Scholars Program, which supports minority college students in their research. In collaboration with Martina Caldwell, M.D., an Emergency Medicine physician at Henry Ford Hospital, Ashleigh conducted research on Emergency Department (ED) utilization for prenatal care and how it affects birth outcomes. She presented her findings at WSU's Undergraduate Research and Creative Projects Conference in November, and won an award for having one of the top ten research projects. "My public health background has taught me a lot about the preventative measures of health care that can impact not just individuals, but communities, as well," Ashleigh reflects.
HFA's Senior Mastery Program sparked Ashleigh's interest in public health and her research topic. She explains: "I was actually inspired to pursue my major because of an experience I had during Senior Practicum! I was introduced to a neonatologist named Dr. Clarita Hughes by my Practicum mentor, Dr. Delitha Taylor. Dr. Hughes allowed me to shadow her in the neonatal intensive care unit of Oakwood (now Beaumont Dearborn) Hospital. It was from that experience I knew I wanted to work with premature babies in some capacity."
Along with Practicum, Ashleigh credits several other aspects of her HFA career as being instrumental in preparing her for WSU. "I think my most valuable experience at HFA was my dual enrollment at Henry Ford College. That really put me a step ahead at Wayne State in terms of having extra credits under my belt my freshman year. Also, the GAPP experience really was a precious one, as I cherish the memories I have from the German exchange program. I was able to complete my foreign language credits in college sooner because I took German at HFA."
As for advice to HFA students, Ashleigh recommends applying for every scholarship available. "Maximize your financial resources to pick where you want to go to school, not go where you have to go." In addition, starting in their freshman year, students should "keep in mind that your overall high school GPA is really what opens doors upon graduation." Finally, taking the SAT seriously the first time, and preparing amply, is key.
She concludes: "Trust the process that life takes us on. There are times where we don't necessarily understand why things don't work out or maybe even why they went a different way, but everything has a specific reason that it happens the way it does."
Please join us in recognizing Ashleigh Anderson for her accomplishments, and thanking her for the inspiration she provides to us all!